A lot of consideration goes into bags for travel or for work. Sometimes choices are made for style, like my Coach briefcase, whereas others are selected for more practical reasons, such as my Nomatic travel bags. At this year's E3 I was introduced to Mobile Edge, by meeting the wonderfully excitable Paul (the gentleman who does the introduction videos on a number of products), who were showing off their line of PC gaming bags. While I did not receive one of those to check out, I was able to see their ScanFast Checkpoint Friendly Briefcase 2.0 to get an idea of what you can expect and the quality of their Sorona material, which is a more eco-friendly and energy efficient product to manufacture. Given the demands of our modern world and so many things to keep track of, does the ScanFast Checkpoint Friendly Briefcase 2.0 hold up or is it a relic of the past?
Despite being made out of the Sorona material, it didn't feel terribly different from a bag in the same price range. It feels durable and dependable, though with a slightly more rigid and rough to the touch. The front has a good amount of padding, giving the impression it could take a hit and not damage the precious cargo inside, with the back offering a more yielding feel so it will lay flatter against your side. A good amount of thought also went into the interior of the bag.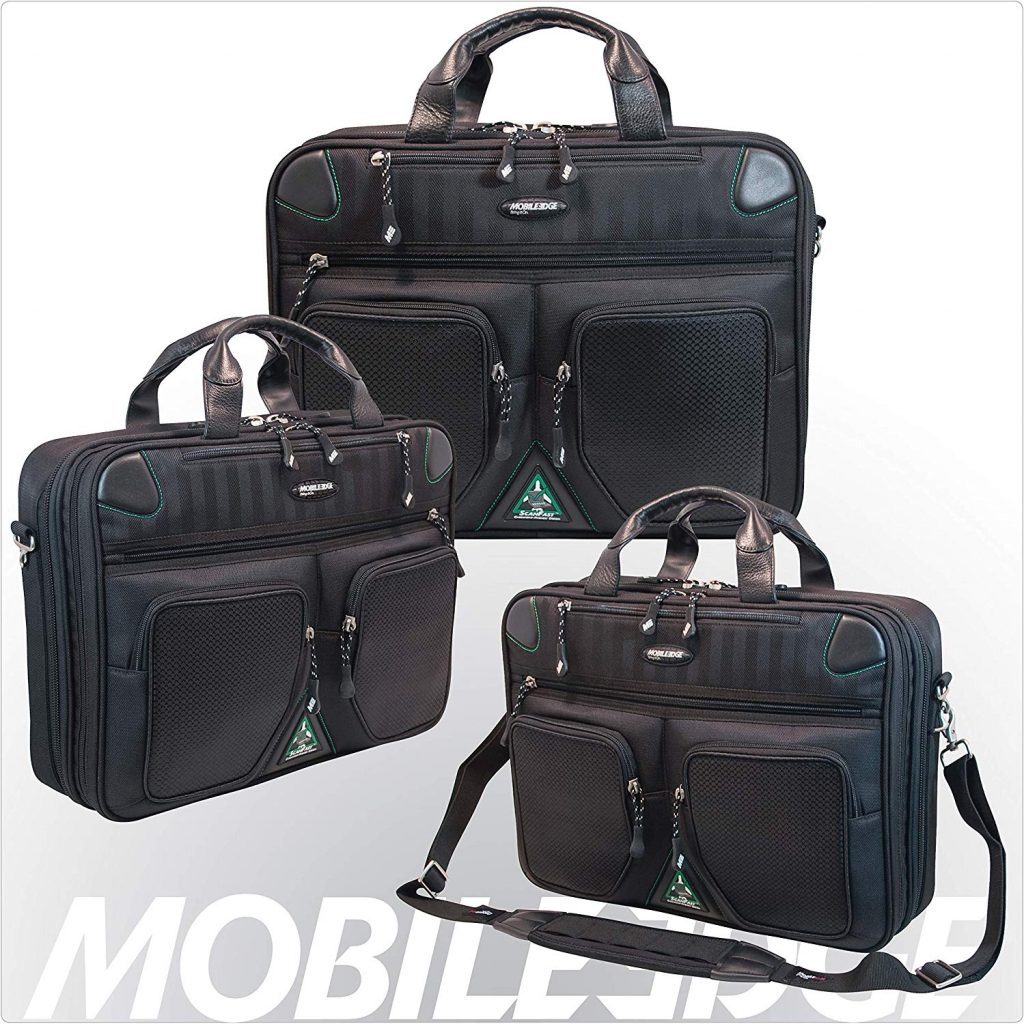 Each of the front pockets offer a good amount of space. The top zipper is large enough to easily hold my phone and/or wallet or anything similarly sized that you want easy access to. Below it is a decent sized pouch, perfect for holding documents or paperwork you want to get to on the fly. Or, if you're like me, it had more than enough room to securely hold my Nintendo Switch in The Legend of Zelda: Breath of the Wild Special Edition and maybe some other little odds and ends. On top of that pouch are two little pouches that can hold smaller, less important, items. It is actually just large enough to hold a portable charger or something similar that you might want.
Moving past the front are two larger pockets perfect for organizing your various items. The first one has a mesh zippered pocket that can hold various things you can't find a place for. Chargers, cords and things of the like. On the opposite end is a number of pockets that can serve multiple purposes. Some of these include, but are not limited to, four pen/pencil holders, a place for ID or another similarly sized card, a hook for your keys, memory card/usb storage, another zippered pouch and a couple pockets. While the little zippered pouch is perfect for business cards or items you want securely placed, the pockets are large enough to hold a small notebook, your phone or any similarly sized item.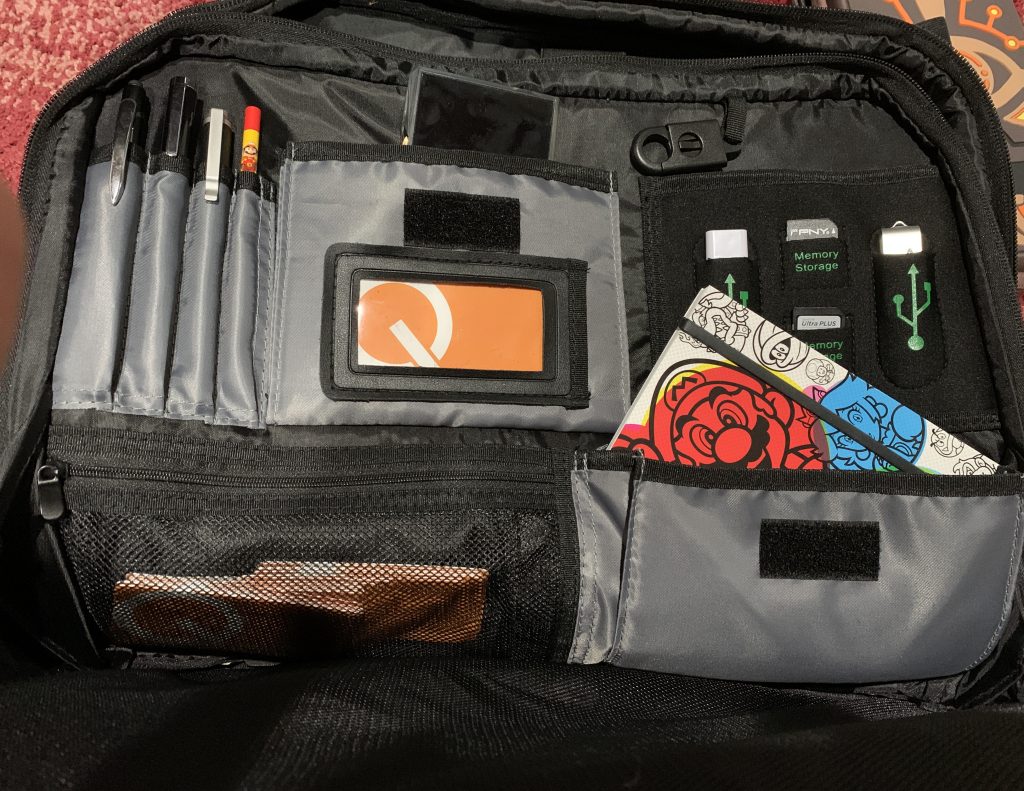 Further inside the bag is the laptop area. What makes this bag "Checkpoint friendly" is because you can fully open this pouch and the area where the laptop goes is completely transparent. Mobile Edge claims this area can hold a 16" screen, meaning practically any modern device will easily fit. However, it is a tad on the deep side. With it being deep enough to hold my headphones in a hard-shell case, it's thicker than any laptop could conceivably be. For reference, the picture below shows the headphones I was able to get in the pouch, next to my HP Chromebook X2, which I use for writing articles on the go, with a Sony remote, my FiiO M11 DAP and the USB Mobile Edge gave me on top, with there still being a considerable difference between that opening and what was able to easily fit in there. The opposite side has a covered version of the previous mesh pocket, so you can put more sensitive or items you don't want people to see in there. Finally, on the back, there is a trolley strap that can be used with rolling luggage.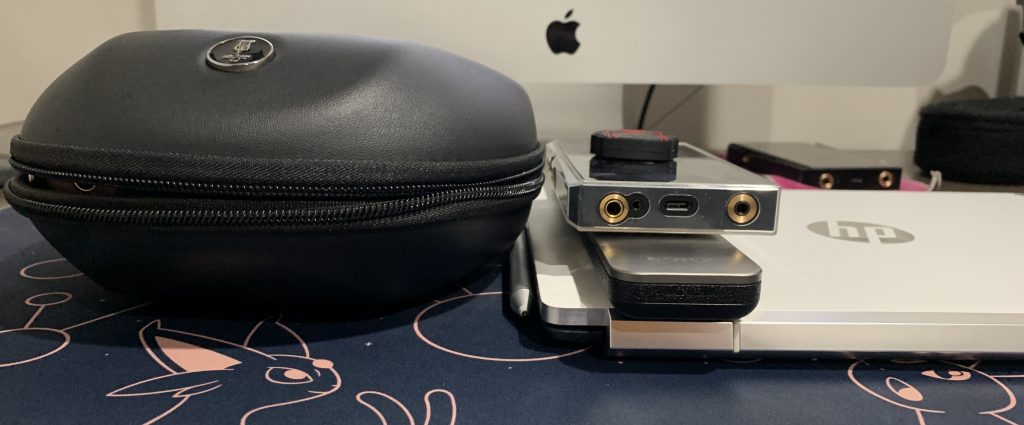 As nice as some of the choices were, certain aspects of the bag feel a bit dated. There are no cord passthroughs, meaning you can't hide or run a wire through the bag without modifying it. Certain openings, like the Checkpoint friendly pouch, are a bit on the large size and adds a lot of unnecessary space. Some of the predetermined sizes also make it a bit harder to use things that are differently sized. As you can see, the pens aren't exactly the most elegant and while my USB drives look great, I have some that are half the size and would get lost in that pocket.
Despite the criticism of some dated ideas, something that makes a lot of sense when you consider Amazon has a review from 2011, I absolutely love the included inserts. One is in the Scanfast compartment that actually explains the TSA guideline is nothing besides the laptop should be in that area and to put the cords elsewhere. It helps make, assuming you remember by the time you use it, your first experience go from disappointment at it failing to achieve its desired goal to one that helps you maximize the potential. The other one covers Mobile Edge's lifetime replacement warranty.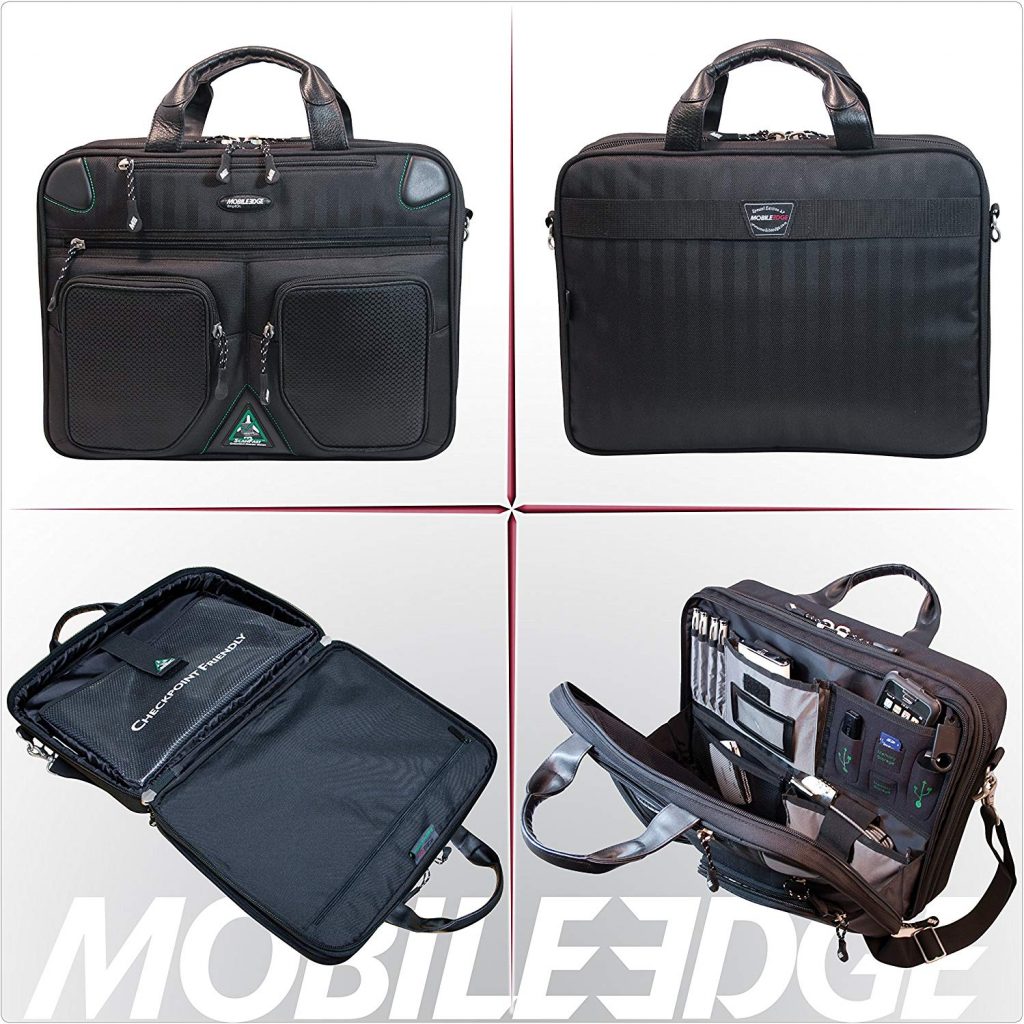 In a world where products have less and less of a guarantee, it says a lot Mobile Edge doesn't just offer one, it actually actively mentions it and ultimately makes sure purchasers understand what exactly they're getting. In this case it covers defects and requires an inspection to see if they determine it was an error on their part or accidental damage, misuse, improper care or alterations, plus obviously loss. It's a fair policy and one that I am happy they outline upfront, even if most people will just toss the card without reading it.
Mobile Edge ScanFast Checkpoint Friendly Briefcase 2.0 – Verdict
I've owned a good number of bags in the same price range and I'd be hard pressed to find one better than Mobile Edge's ScanFast Checkpoint Friendly Briefcase 2.0. A good amount of thought and effort went into the design and it shows. If I were to take this to something like E3 or PAX, I don't think there is anything more I could want. Sure, it sucks that the padding on the front shows a crease when you pull down to open it, even if you only do it once, and some of the slots only look nice with specific products, but it's impossible to make a perfect bag for everyone. So, if you want a bag that is great for travel and has a fair amount of places to hold all your things, it's worth, if nothing else, your consideration.
[Editor's Note: Mobile Edge's ScanFast Checkpoint Friendly Briefcase 2.0 was provided to us for review purposes.]