After a series of free downloadable content for users of the Cerberus Network on Mass Effect 2, it's now time for BioWare to release a paid downloadable content. Kasumi – Stolen Memory is the first DLC that will cost you money if you want to recruit her in your party. Similar to the Zaeed – Price of Revenge that was released for free when the game was launched, Kasumi – Stolen Memory DLC will allow you to do a loyalty mission with Kasumi after recruiting her in the Citadel.
Since recruiting Kasumi requires money, is she worth the 560 Microsoft Points price? Let's take a look on the quick HOTs and NOTs of Bioware's recent DLC for Mass Effect 2.
HOT
Recruit Kasumi
As soon as Commander Sherpard gains access to the Normandy, the quest for Kasumi will be available on the Galaxy Map. Kasumi Goto is a recruitable character that can help Commander Shepard and his team in a pursuit of the Collectors. Comparing Kasumi to other characters in the game, she is a strong character with powerful Biotics. She's also a great hacker that will come in handy when you're on the last mission of the game.
Kasumi Goto is a Thief that is hired by the Illusive Man to help Commander Shepard. When found in the Citadel, she tells Commander Shepard that she has some business to do in Bekenstein Planet in the Terminus System. Her memories are stolen by someone named Honk and this is where her loyalty mission comes in. Kasumi and Commander Shepard will be partnered up in her mission to recover the memories that she lost from Honk via a device that he stole called Greybox. Once her loyalty mission is completed, you will be able use her permanently.
DOSSIER: THe Master Thief
Kasumi

Sabotage, Infiltration, Extraction
Property Acquisition, Stealth, Agile Combat

This subject has stolen extremely valuable resources from the Cerberus in the past. Alarm systems, DNA encoders, guards, and various other deterrents were bypassed and we don't know how. She was last seen on the Citadel.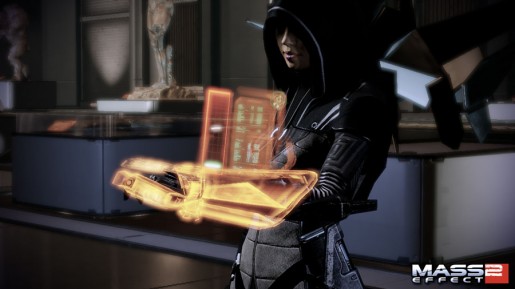 Adds One Achievement
Fans who love unlocking achievements on their XBOX 360 will be delighted to know that the DLC adds one achievement that amounts to 15 Gamer points. With Kasumi having a loyalty mission, helping her complete it will unlock that 15 Gamer Points.
More Mass Effect 2 Action
Going through the DLC should take around an hour. As with every other mission in the game, there will be a series of enemy waves that you have to fight. Playing the game on Insanity will take you more than an hour to finish because in some parts of the game, those Eclipse Solders are a pain. Did I mention you will see Shepard in a Suit in this DLC? Think about James Bond and you'll know what I mean.
More Experience, Items, Renegade/ Paragon Points
If you are looking to get more experience points to level Commander Shepard and his crew up, Kasumi – Stolen Memory DLC will give you enough points to gain a level. There would be at least 1000 Experience Points that will be given to you after finishing the mission. The DLC also has an item where Miranda and Kasumi can use; a M12-Locust Sub Machine Gun. There will also be conversations in the DLC where it will give you either a Paragon or Renegade points depending on what path you choose. This is a great way to max those points before doing the last mission to make sure everyone will get out alive on the last mission.
NOT
Isn't it too late?
I am sure by now the majority of gamers who played Mass Effect 2 will be finished through their first and second play-throughs. I don't see the point of releasing an extra character at this point when most of us have already finished with the main campaign. Sure the playing through her loyalty mission is fun but there will be no point of using her if you saved at the last part of the game. It's not like she'll make that much of difference. I think this DLC would be very beneficial assuming you've just started playing Mass Effect 2. Honestly, when Zaeed – the Price of Revenge DLC was released, who uses that pathetic character anymore?
VERDICT
For the people who would want to start over playing Mass Effect 2 will find this DLC very helpful since you can start off a party with Kasumi. However, if you're completely had enough of Mass Effect 2 and thinking of not playing the game again, I suggest to stay away from it since I don't see a point of recruiting her for just the last mission. Save the 560 Microsoft points for something more worthwhile. Either way, I enjoyed playing through Kasumi's loyalty mission and getting to know her.