Anthem made big waves when originally shown off at E3 back in 2017. Developed by BioWare and Motive Studios, published by EA, the online multiplayer action-RPG has finally been released for Xbox One, PlayStation 4 and PC. The game is named after a powerful energy, the Anthem of Creation. This most generic of sounding sources of power, can do anything from terraform to spawn huge creatures. Years before the game's events the bad guys, the Dominion, enter the scene, mercilessly after the Anthem's power. They ended up destroying a lot of Fort Tarsis – which goes on to be the central hub for players.
Things didn't exactly go to plan for them then and now they are back. Just as a rookie Freelancer, naturally the player, enters play things seem to go downhill. This isn't a simple battle between two sides. With huge creatures littering the lands around Fort Tarsis, what ensues is effectively a battle between the good, the bad and the ugly. Unlike the iconic Western film however this is a storyline that fades into the background, mostly forgotten and barely linking together the explosive combat.
Thankfully, for years Javelins, exoskeleton like mini mech suits, have been a thing in this world. Used for much more than just movement, Javelins come in four unlockable forms: Ranger, sort of an allrounder; Colossus, as the name suggests a tankier model; Interceptor, a extremely fast suit with little health and Storm, which can inflict elemental damage at range.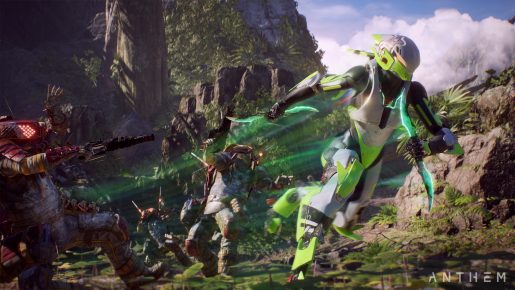 Anthem doesn't waste any time making the players work up to feeling like a full on version of Iron Man. Instantly, players can fly no matter what Javelin type they choose. Having the ability to charge towards a cliff and jump, only to zoom around. This experience never gets old, making the Javelins look and feel powerful form the offing. On top of their main attributes and visual differences, even their movement differs. For example, Storm Javelins can glide forward and hover almost indefinitely. At the other end of the spectrum Colossus Javelins, whilst still able to fly, cannot hover but have a strong double jump – plus a cooler superhero landing.
At the start of the game these apparently powerful suits are then beaten around like play things by some of the larger creatures that wander the region of Bastion. This helps to emphasis the threats creatures pose. Unfortunately, there is somewhat of a lack of variety in the high level enemies. Often Anthem chooses to thrown more cannon fodder at you, rather than vary things up. While it continues the sense of the characters being tremendously strong, culling waves, it doesn't offer up as much of a challenge as multiple types of larger enemies would.
Freeplay is unlocked super early on and is an interesting way to let players zoom around Anthem's game world, with a decent amount there to fill many hours. It might not hold player's attention for a complete long gaming session but splice it between story missions and the time soon racks up. Whether it's the world events such as killing Titans or just exploring and seeing some jaw dropping vistas, the world feels alive. With the promise of more events in the near future it only looks to improve too. Lots of little lore pieces are spread around the environments, but players can completely ignore these wandering past the button press opportunities for tidbits of text – resulting in the world giving you want you want from it.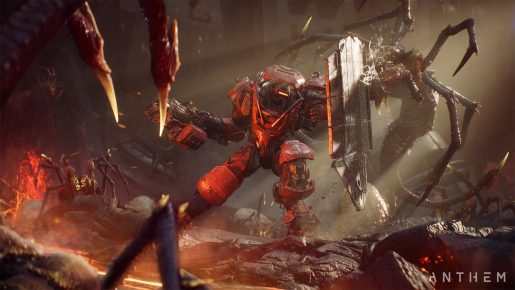 Strongholds are the sort of content that will keep players engaged over time, rather than the ability to play on harder difficulties. Alas, upon launch there are three, with a fourth not arriving until April. While I appreciate EA's commitment to a roadmap of content, having some extras upfront would have made it easier to suggest purchasing the game now instead of waiting.
As presentation goes Anthem sits at the top end of super shiny. Be it from the sense of scale that the world design gives, the hordes of enemies that fill the screen or the incredible effects from weapons and powers. Each element adds to the next to build a visual experience for the players. Each enemy has a different silhouette allowing easy recognition of the threat type. The world has a consistent vibe running throughout it. It is even possible to soar between large rocks one minute before diving below water. The bar is rarely dropped, enabling a very pretty game to shine.
One of my irritations with many games, especially with the glaringly similar Destiny 2, is the way the armor system works. Many titles blend together looks and attributes making it a constant trade off; with making your character personalized against making them better stat wise. Anthem throws this issue out of the window allowing for visual customization outside of stats. While this sees microtransactions seep into the game, it is nice to have the ability to retain a "signature" look whilst leveling up.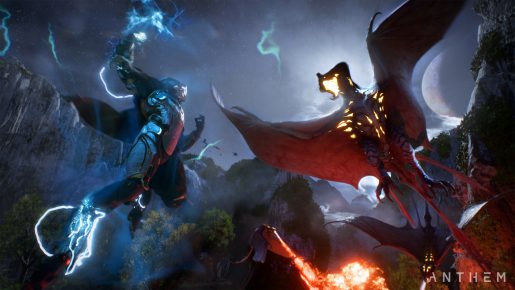 Javelins have plenty of customization in both the looks and stats department. From individual sections of armor visually, to the material used the look can be tweaked as parts are unlocked. On top of what is a constant flow of weapons, players can play around with many slots on their Javelins. These slots allow for upgrades including: increased flight time, blast radius increases and more.
Anthem's arsenal is a bit of a mixed bag. What is there is awesome to use but some more uniqueness and more gun types would be another angle we can hope EA improve upon. The weaponry plain-ness is almost exaggerated but the Javelin skills. Why would I run around with an Uzi like gun when powers include explosive mortar strikes, calling thunder down from the sky or freezing enemies in place exist?
There are a fair few niggles that appear over time, that somewhat draw from the experience. Many of these are small things but they all add up. The most glaring is that no matter how strong your connection is, at times creatures and enemies alike simply disappear. Sometimes this even occurs after you've started attacking them – just despawning in front of you. This is incredibly jarring and, despite being infrequent, is a step towards a lackluster experience.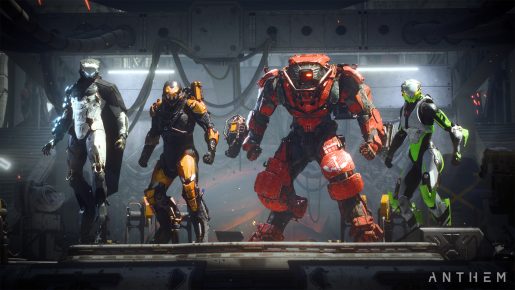 Another example is the UI for squad members. It does nothing to distinguish a squad member from other random players, not even making the icon a different color – which is universally used in gaming – making friends hard to follow. Players will also need to adjust the sensitivity of the flight controls, as it can otherwise result in janky not smooth cornering. Although less of an issue than most, it is something took time to get a good balance. Then there is the issues of clipping through random trees or being stood on an invisible ledge off the side of a cliff. There are simply some immersion breaking elements of the world.
Anthem is getting a fair bit of hate right now and to some extent it deserves it. The story and characters are simply too forgettable to matter – something of a shock for a BioWare title. Nevertheless there is a lot of fun to be had. The gameplay is extremely similar to Destiny, however Anthem is what I had hoped Destiny would be. It makes players feel more powerful, and of course there is the incredibly ability of flight, to traverse across large areas. The issue is that Destiny 1 and 2 have both been released, providing a more refined experience, and reducing the originality of Anthem.
Verdict
Comparison aside, Anthem can be a fairly chilled game to play with friends, despite explosions big enough to fill screens, and this is 100% the way to play the game. The constant challenges to defend areas or collects things are made less of a chore with a competent ally. Also, having a friend to cooperatively combo with helps push all of the over the top fun to the surface. The niggles are still there and present but it is much easier to forgive when not solo. With all the glorious map there to fly around, the vast ways to cause explosions and cooperative play, Anthem is well worth playing, especially once the roadmapped content starts to come online.
[Editor's Note: Anthem was provided to us by EA for the review.]