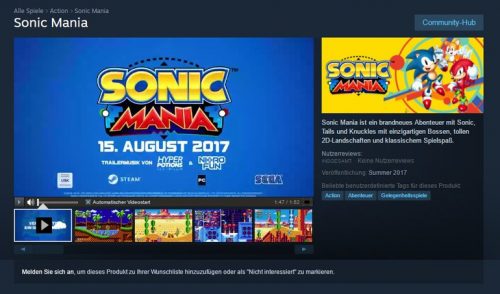 Some International Steam stores have leaked the release date for Sega's Sonic Mania. As expected, the game will still be released in the Summer of 2017, although it's still months away from coming out.
As spotted by Gametransfers, the German Steam store revealed that Sonic Mania will be out on August 15th, 2017. This has yet to be officially confirmed by Sega, but it's likely to be true as they wouldn't want to release the game at the same time as Sonic Forces.
August is in the Northern Hemisphere's Summer period so this date could be legitimate. It also avoids the projected Fall 2017 release window for Sonic Forces and other big blockbuster games.
Mania is the old-school style Sonic video game releasing on PC, PS4, Xbox One and Nintendo Switch. Hopefully 2017 is the year that Sonic games become good again.