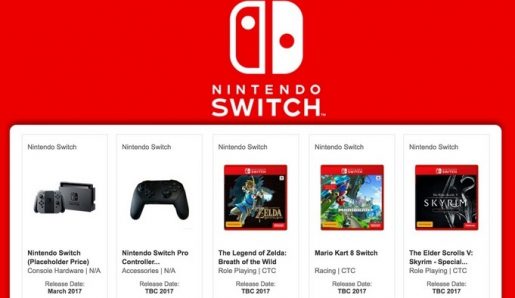 EB Games Australia briefly uploaded cover art for Mario Kart 8 on Nintendo Switch on its official website and it gave us some interesting new information on this version of the game.
The listing is no longer up due to obvious reasons, but a Twitter user managed to grab some screenshots on what was revealed. Not to mention web archive shows us that EB Games Australia really did post box art for several Nintendo Switch video games before they took it down.
Anyway, the box art said that this new version of the game features a new Battle Mode, 24 extra tracks and 10 new characters. We cannot confirm 100% if this is true or not, although we do know the game is coming as it was featured in the Switch reveal trailer.
The listing also shows us that The Elder Scroll V: Skyrim Special Edition is indeed coming to the new console. Whether or not these games will be launch titles remain to be seen.
What we do know is that the Nintendo Switch will be revealed in more detail on January 12th, 2017. It's possible this info could be true as many retailers have started to receive promotional posters for the console.
Update: EB Games New Zealand has listed the same video games on their website. Although the box-art for Mario Kart 8 is grayed out. There is a listing for Skyrim though.