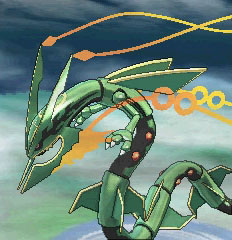 The Pokemon Company is pleased to announce that Rayquaza will be getting a Mega Evolution in the upcoming Pokemon Omega Ruby and Pokemon Alpha Sapphire.
Rayquaza is an incredibly powerful Dragon- and Flying-type Pokemon, standing equal to Legendary Pokemon Groudon and Kyogre.

In battle, Mega Rayquaza's skills are sure to wreak havoc on an opponent's strategy with its Delta Stream Ability. Powerful moves like Rain Dance, Sunny Day, Sandstorm, and Hail will fail in the face of strong winds whipped up by Mega Rayquaza, whilst Abilities like Drizzle, Drought, Sand Stream, and Snow Warning will not even activate. In addition, moves of a type to which Flying-type Pokemon are usually susceptible will only deal normal damage.
Pokemon Omega Ruby and Alpha Sapphire is due out this November exclusively for the Nintendo 3DS. Check back with us near the release date for our review and bunch of guides.