Last year developer Intelligent Systems released Pushmo, a puzzle game which was a hit on the Nintendo 3DS eShop. The game captivated players with its challenging puzzles and expansive creative studio. Now the developer has come out with Crashmo, which acts more like a full-blown sequel to Pushmo rather than just an expansion pack full of more puzzles.
Does Crashmo add in enough new content to warrant a purchase? Or should you stay clear of this title and stick to the first entry? Here are the Hots and Nots of Crashmo for the Nintendo 3DS.
HOT
Gameplay Is Addicting
Crashmo has you playing as Mallo, a cat-like being that looks more like a miniature manatee in a sumo outfit. Your objective is to collect the escaped birds that have perched themselves on top of tall towers called Crashmo. In order to do this you must move pieces of the Crashmo in order to create steps to reach the top and collect the bird. While it sounds simple in concept, the levels increase in difficulty almost as soon as you get comfortable with the controls. Some of the puzzles are difficult right off the bat while later puzzles get to the point where your brain will begin to melt at the difficulty. This definitely isn't something that fans of casual puzzle games will be interested in, but more on that later. On a better note, it is an addicting game and completing one of its challenging puzzles feels extremely rewarding.
There are new mechanics included in this entry that change up the puzzles and add a fresh coat of paint to what we saw in Pushmo. Mallo can now move blocks side to side as well as forwards and backwards, adding a layer of depth to the game. The biggest addition to Crashmo is the ability to manipulate a full 360 degrees around the puzzle using the directional pad. This makes it a bit easier to see what you can do to move forward in the puzzle and is most certainly a welcome addition to the game.

Lots Of Content For You To Access
Crashmo offers you over 100 puzzles in the main "campaign" to test your puzzle skills on and 90 puzzles in the training area that are useful for honing your skills and learning about all of the different new inclusions in the game. That's just the beginning of your puzzle shenanigans, however. Crashmo also offers an expansive area where you can create your own puzzles called the Crashmo Creation Studio. Here you can create your very own Crashmo to share with others using QR codes. The only downside to this is that Nintendo rely's on players to create their own forum or website where they can share between each other rather than giving the game its own online hub.
Nice Graphics And Sound
Crashmo has some pretty good visuals for a downloadable 3DS eShop title. The colors are bright and the puzzle designs are fun to look at before you completely dismantle them. Looking at all of the different puzzle designs was honestly one of my favorite aspects of the game. It was cool to see the different designs and how they were implemented into the various puzzles. The sounds in the game are also quirky and fir the tone and mood of the game. Everything is very bright and upbeat, giving the game a very happy and positive vibe.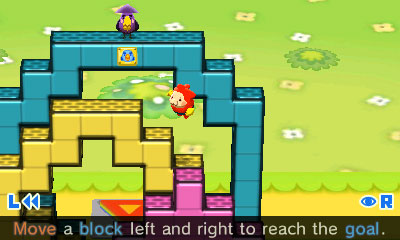 NOT
Difficulty Spike Can Turn Some Away
Crashmo has a tremendous difficulty spike very early on in the main set of puzzles. Hardcore puzzle fans may not find this a problem, but causal gamers might. Some people may just want to turn on the game during a break and knock a few puzzles out but will instead find that they spent all of their time trying to figure out one puzzle and haven't made any progress. There are 90 training levels like I mentioned above, but it would have been nice to see another set consisting entirely of beginners puzzles for the casual puzzle gamers who don't want to be completely frustrated with their game.
VERDICT
Crashmo is a very addicting title with lots to offer for fans of the original and puzzle game fans alike. While there is a tremendous difficulty spike that may turn some casual gamers away, it is definitely worth picking up if you are into the puzzle genre or loved Pushmo. If you have the extra money in your wallet and can spare $8.99 price point, then definitely look into picking this addicting little puzzle game up.
[Editor's Note: Crashmo was reviewed on the Nintendo 3DS. The game was provided to us by the publisher for review purposes.]
Crashmo Review

,