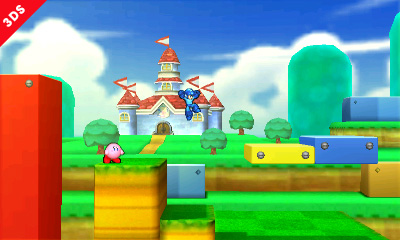 Masahiro Sakurai has been on quite the roll lately with the Nintendo 3DS version of the upcoming Super Smash Bros. Two weeks ago we got the official reveal of the Animal Crossing stage, as well as the reveal of a Pokemon stage and Tomodachi Collection Stage last week. After a pretty disappointing update yesterday, he has bounced back with another brand new stage for the Nintendo 3DS version of the game.
This brand new side-scrolling stage is based off of the fantastic Super Mario 3D Land. The follows were his comments on Miiverse for the below images in order.
Pic of the day. Here's some info on the Nintendo 3DS stage called Super Mario 3D Land! First, it advances by side-scrolling…

Then you continue into the valley–it's in 3D Land, after all. The protruding stone blocks change the angles of the platforms.

After that, back to side-scrolling. Now it gets you moving–you'll have to trot downhill here.

And finally, you get back on rails to go farther into the stage. It takes roughly two minutes to complete a lap, and at the end you go into a giant pipe that takes you back to the beginning. …I know this sequence goes above and beyond a traditional Pic of the Day, so consider this a little something extra on the side from me.
Quite the detailed update today for what looks to be a very fun stage in the upcoming Super Smash Bros.