With Donkey Kong Country: Tropical Freeze having just released, we thought it would be a good time to help out with some guides for the game. In this game, to access the three bonus levels in each world, you must find at least one secret exit to gain access to the rest. As a result, we thought it would be a good idea to tell you where to find these exits, as some are harder to find than the others. Over the last couple weeks, we've brought you the secret exits for the first five worlds in the game and now it's finally time to take a look at the final world of the game, Donkey Kong Island.
The last world made it very easy for us after a few more complicated worlds. We only have one secret exit in this world, as 6-A leads directly to 6-B. So let's finish this up with Donkey Kong's home island.
6-7 Frozen Frenzy (Leads to 6-A Dynamite Dash)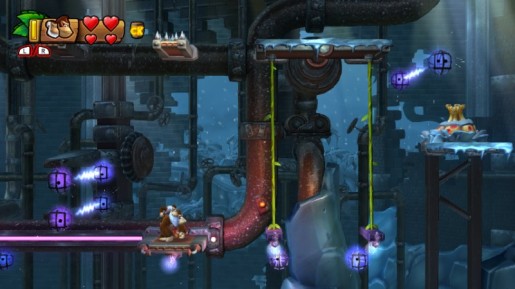 You should have Cranky Kong to reach this secret exit. This secret exit might not be the easiest to notice offhand, but it's still pretty simple to access. While Cranky Kong is recommended to reach the secret exit, I suggest having Dixie Kong with you and a few Cranky Kong barrels in waiting from your inventory that you can pick at the start of the stage.


Play through the stage until you reach the second checkpoint. Move forward past the collectible N and you will very soon see yourself in the first picture above in this guide. Move to the right up the vines and onto the platform on the right, as seen in the second picture above. Now, you will want to use any means necessary to get on top of the wobbly platform to the left that is holding the vines.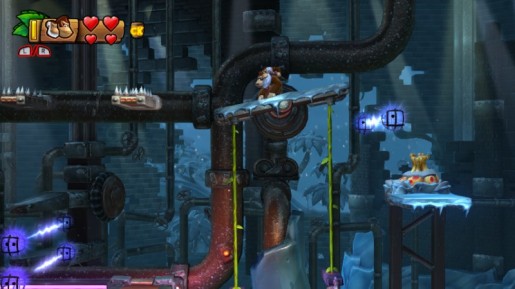 Cranky Kong is best at this as you must jump across a couple spiked platforms, as seen in the picture above, and he will not get injured. Technically you could do so with the other Kongs if you just hurry and get across in time. Once you cross these platforms, you will not be at the secret exit portal and have reached the final secret exit of the game.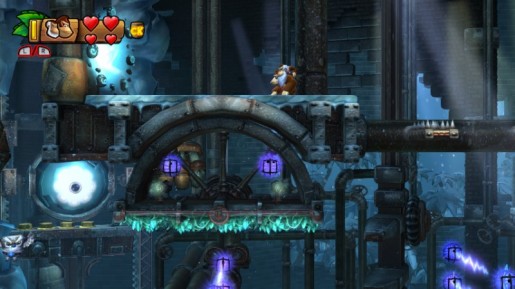 As said above, to access the second bonus stage in this world, 6-B Icicle Arsenal, all you have to do is beat 6-A. Also, just like in the other worlds, to access the final bonus stage 6-K, collect the four KONG letters in each stage, including 6-A and 6-B and it will open up. That is it for the secret exits in the game. Now you just have to collect the KONG letters in each world to open the K stages and gain access to a hidden world.