With Donkey Kong Country: Tropical Freeze having just released, we thought it would be a good time to help out with some guides for the game. In this game, to access the three bonus levels in each world, you must find at least one secret exit to gain access to the rest. As a result, we thought it would be a good idea to tell you where to find these exits, as some are harder to find than the others. Over the last few days, we've brought you the secret exits for the first couple worlds in the game and now it's time to take a look at the third world of the game, Juicy Jungle.
5-3 Fruity Factory (Leads to 5-A Beehive Brawl)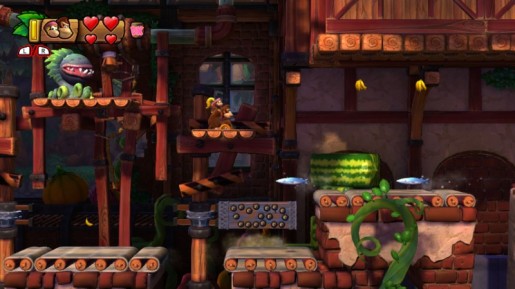 After the very complicated World 4 for secret exits, World 5 makes it a lot easy by having fairly easy to find and easy to reach secret exits that don't require any backtracking. This level doesn't require any specific Kongs, but is made easiest with Dixie Kong, as with most in this game. Play through the stage until you reach the second checkpoint and after this point you will want to start paying close attention as the secret exit is near. Move forward barely any at all, past the revolving metal plates that can hurt you. Jump onto the platforms above this obstacle seen in the above image. In the upper right of this screen, you will see an area that it looks like you should be able to jump to. Do so and you will now see the blue portal that leads to the secret exit.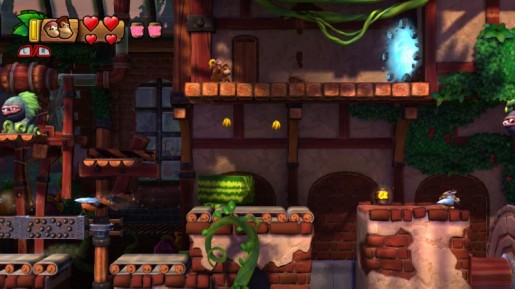 5-4 Panicky Paddles (Leads to 5-B Jammin' Jams)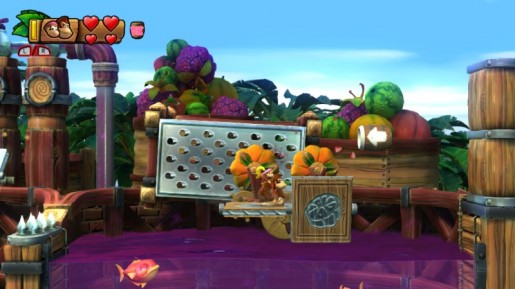 You must have Dixie Kong to reach this secret exit. You will be playing through almost all of this level before reaching the exit, so prepare for a long playthrough. Continue through the stage until you reach the third checkpoint and keep moving forward past an underwater section where you must dodge giant spike balls. When you reach the end of this underwater section, start to climb up these platforms until you reach the top. Begin to move right and get past the jumping spike balls. At this point you will be above a pool of purple water as seen in the above image. Now dive into this water and begin to swim straight down, using Dixie's propeller ability by holding down A to reach the secret exit portal.