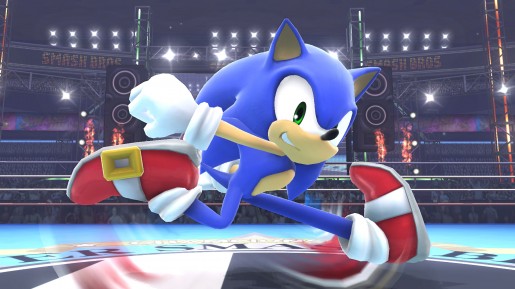 Warning! Challenger Approaching! Today's new Nintendo Direct brought us a little bit of surprising Super Smash Bros. news, that I thought personally would come later in the month alongside the release of the latest game in the returning entrant's franchise. Some may know him as the fastest thing alive or as Satoru Iwata calls him in the Direct, the blur blue, but everyone knows him best as just Sonic the Hedgehog.
Coming off his first appearance in the series in Super Smash Bros. Brawl, there was little doubt that Sonic would make a return to Super Smash. Bros with the exclusive deal signed between Nintendo and Sega for three games. Sonic is starting to become synonymous with Nintendo as a result of a deal like that and another appearance in Nintendo's biggest crossover franchise.
Sonic the Hedgehog is the second third party character to join the fight this time around, following Mega Man. Super Smash Bros. Brawl had two total with Sonic and Snake, so will there be more than two this time around, or has Nintendo exhausted their biggest surprises already? I would assume it would be the former rather than the latter.
Check out the gameplay video and gallery of pictures of Sonic in action for both the Wii U and Nintendo 3DS versions of the game.