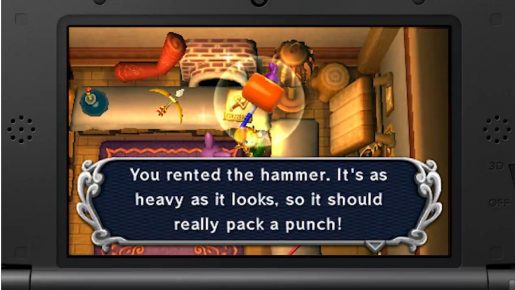 Nintendo has been talking about shaking up the Legend of Zelda foundation for awhile now, and it looks like they may have finally done so. During today's Nintendo Direct, Nintendo president Satoru Iwata confirmed speculation that The Legend of Zelda: A Link Between Worlds would be non-linear in the order of its dungeons.
In previous games in the Legend of Zelda series, Link would go to dungeons in a certain order and receive an item within that dungeon that would allow him to proceed and finish the dungeon. That is all changing with the latest title for the 3DS with the introduction of Ravio's Shop. Now you will be able to go to this shop and rent items, including all of the staples like the bow and arrow, hammer, and hookshot. The Direct itself shows you being able to rent the hammer for 20 rupees.
By adding in this change, you can tackle the dungeons in any order you please, which will obviously change the way the story goes. With this change happening on the 3DS, it really makes me wonder what they have planned for the Zelda Wii U game they have in development.
The Legend of Zelda: A Link Between Worlds will be available for the Nintendo 3DS on November 22.