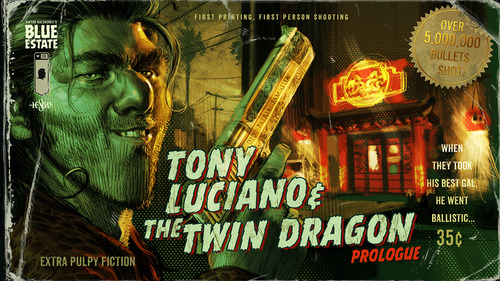 Blue Estate is a dark comedy shooter from developer HESAW available for the Leap Motion device. The game is based on the Eisner Awards nominated Blue Estate comic books, by Viktor Kalvachev, following Tony Luciano in his search for Cherry Popz. As Ms Popz has been abducted and Tony is seemingly useless at negotiating, shooting starts almost instantaneously. Using the Leap Motion controller, the game is available from the Air Space Store. Is the rescue of Cherry Popz a worthy adventure or should it have remained in a comic book?
Let's find out and kick off the HOTs and NOTs.
HOTs
Arcade Feel
Not many games manage to send you back to a time when you feed coins into arcade machines to play or continue. Blue Estate however does a great job of capturing the arcade experience and portraying it on the new Leap Motion platform. From the old style on-rails movement to the pop up target gameplay, it is both fun and an overall entertaining experience that would feel at home in an arcade.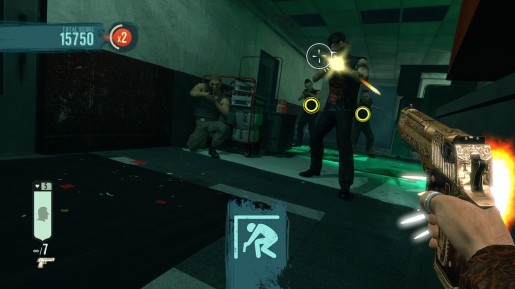 Hand Motion Detection
Playing other gun-related Leap Motion titles I've often found they seem to be slightly unresponsive and lack accuracy. This lack of accuracy is commonly caused by the shooting mechanism used. Normally a sharp movement is used to indicate when the player wishes to fire; the issue with this is that the quick movement is tracked and the shot it often fired during the movement thus not where the player was aiming. While in Blue Estate, players can't pull the trigger, it does a great job of firing for players when enemies are in the crosshairs. More importantly, it completely removes the inaccuracy caused by the movements. Reloading and switching weapons are intuitive with simple movements allowing gamers just to enjoy the game without panicking about the controls.
Destructible Environments
Whether it is shooting or sending enemies flying, parts of the levels are destructible. Only what should be destructive is though with thin wooden structures, glass panels and flying or stationary bottles exploding when shot. It's a nice feature that, despite not being needed, makes the player sit back and say 'that was awesome!' It is also good to know going into the game that some cover can be destroyed, so you better dispatch all the enemies quickly.
Blue Estate (Leap Motion) Review

,