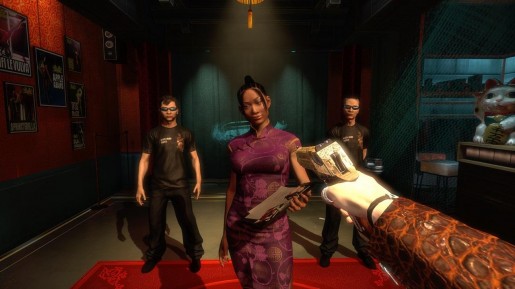 Continue System
The continue system is great for two definitive reasons. Firstly, new players or those who don't have the quickest reactions can use the feature to play through the game and still enjoy it: not being stopped at every encounter where they get flustered. Secondly, it goes hand-in-hand with the arcade style, completing the perfect finish. Even those who play a lot of games be prepared to use the continue feature once or twice as some areas are certainly harder than others even when on the lowest difficulty.
NOTs
Hurting Arms
It is almost out of the game developer's control, nevertheless using the Leap Motion device for a moderately long period of time results in aching arms. While it is possible to play with either hand, which helps the aching, gamers won't be able to play for too long. There is a reason why arcade games don't last for too long but Blue Estate does. Thankfully, the pause function works well enabling players to pause for short periods of time. This still doesn't fix the overall issue of playing for a long time though and despite not being the game's issue it must be mentioned.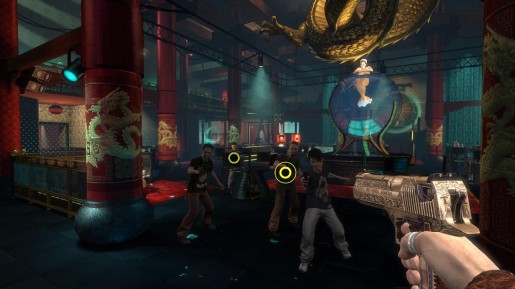 Could Look Nicer
Blue Estate is at the top end of the graphical scale of titles on the Leap Motion device. Some games look better but have a lot less scope but still with the power PCs have in terms of GPUs (Graphics Cards) the game could look better. Most titles on the leap motion could be on a tablet. Blue Estate does go further than this and does offer a decent visual experience, but it will not be winning any awards for it either.
Verdict
Blue Estate offers gamers a decent expeirence. The gameplay is entertaining to play and the arcade style goes alongside it perfectly. The biggest issue does not come from the game itself, but the hardware it uses. This being said, the Leap Motion is a fun device to use and Blue Estate offers one of the best experiences yet on it. Whilst not being big enough of a reason to purchase a Leap Motion if you already own one, Blue Estate is a great addition to your game collection.
[Editor's Note: Blue Estate was reviewed on the PC platform, on the Leap Motion device. The game was provided to us by the publisher for review purposes.]
Blue Estate (Leap Motion) Review

,