After what many suspected to be the end of Cavia's development team, in part because of a lackluster reception for NieR, there seemed to be no hope for ever seeing another game out by the studio. The studio was shuttered in July 2010 and disbanded with no hope of seeing another game from the minds of Yoko Taro and other talented people. Now, Square-Enix has tried getting the band back together one last time for a prequel to the critically-divisive Drag-On Dragoon/Drakengard series. Is their one last encore a bloody refrain, or is it a siren's song echoing into catastrophe?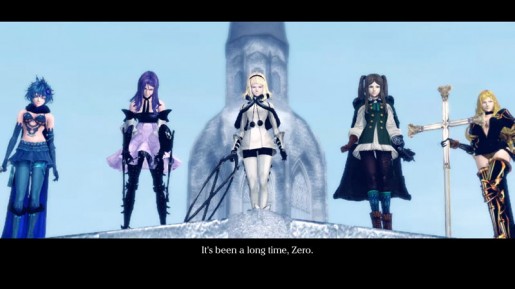 There's a tale of five beautiful Intoners, magical songstresses that keep the world in balance. Scratched out from the history books is that of the sixth Intoner, named Zero. Driven to madness by her lust for power, Zero finds herself assaulting these five sisters early on with the assistance of her loyal dragon Michael. Luck isn't in her favor and Zero finds herself on the losing end of the battle. A lost eye, a missing arm, and a dragon presumed to be dead.
Fast forward one year to the present time of Drakengard 3. Zero has recovered most of her power, fashioned a new arm with a parasite that attaches itself to her, and a pink flower that blooms out of her right eye socket. A new baby dragon named Mikhail that shares her views, but with an almost childlike innocence also joins her side. From that point on, Zero reconvenes her quest for both vengeance and power and she won't stop until her five sisters are put in the ground and she has taken over the world.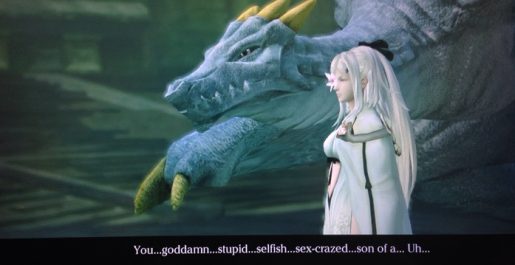 Drakengard 3's Zero is a far different the protagonist in most other RPGs. Not being restrained by things such as honor and virtues, Zero is single-minded in her passion is bloodlust. She's not afraid to get dirty, frequently being showered in the glistening crimson blood of her fallen enemies with an equally dirty mind to boot. Most of her vocabulary is filled with such cursing and vulgarity that even NieR's Kaine would blush. It's not just her that shares those views: her sisters and those companions Zero recruits also share in perverse dialogue any chance they can get.
Zero's lust for blood is one of the foundations of Drakengard 3's core style. Enemies are eviscerated and carved apart, splashing gallons of the red stuff in a single battle. The bright red blood gives a stark contrast to the muddy, often muted colors of the green, grey, and brown environments. As the battle rages on, Zero grows more and more bloodied as a sort of rage meter builds up. With enough blood, Zero can trigger an enraged state, imbuing her with superhuman reflexes and agility while swapping whatever weapon she's equipped with two sets of bloody claws, handy for taking out the many boss encounters or large swarms of elite troops. All of the blood and dismembered limbs certainly don't make this game one for the squeamish or faint of heart.
Drakengard 3 Review

,