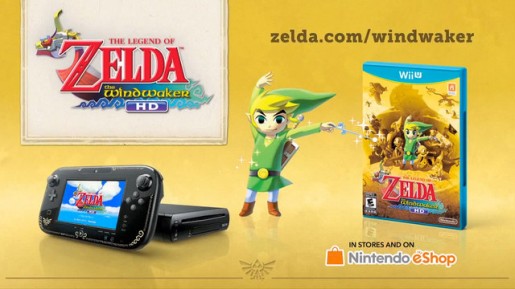 In just a few more days, the much awaited remastered version of The Legend of Zelda: Wind Waker HD will release on the Nintendo Wii U. Fans who are looking forward to get the game early, they have a choice to get it digitally.
Assuming everyone will be getting the game digitally on September 20th, many are wondering just how much space do they need on their hard drive or their storage device? Luckily, Wind Waker HD will not take a huge amount of space, despite its beautiful visuals. The exact space that players will need to save on their storage device is at least 1750MB which is around 1.7GB. If you have a 8GB console, you might need to get an external hard drive or a USB thumb drive with at least 2GB of space.
Don't have the Wii U yet? Well, Nintendo is releasing an exclusive Zelda Wind Waker Deluxe Wii U set that includes a nicely designed Wii U from the Wind Waker, a copy of Hyrule Historia book, and a voucher code that allows everyone to download the game through the Nintendo eShop.
The Legend of Zelda: Wind Waker HD will be available digitally through the Nintendo eShop this September 20th. Fans who prefer the retail copy will have to wait until October 5th.