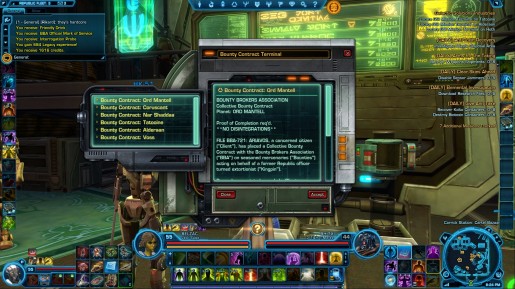 Starting today, the much anticipated Bounty Contract Event for SWTOR will finally be available just for only this week.
During the Bounty Contract Event, you will be able to visit previously explored planets where your missions is to take down high-profiled targets. With every completed contract, you will earn reputation points that allow you to purchase rare items. Unfortunately, the Bounty Contract event only lasts for one week but will always return every month.
Those who are aiming to reach Legend Status will take at least four months before it happens. However, if you have multiple characters, it can be done very quickly as you can stock up reputation trophy that you can be used every week every time you max out the weekly reputation cap. One of the items that you can get when you reach the Legend Status is a unique customization item for HK-51 that gives the droid a very new look.
To see how the Bounty Contract event works, check out the preview we did last month where it features one of the contracts in Ord Mantell.
SWTOR is now free-to-play. For more information, check out the official site to sign up and play for free.