Uncharted and The Last of Us; these are the high-quality titles associated with Naughty Dog nowadays. Before this generation, Sony's critically-acclaimed first-party developer was known for outstanding, cartoonish games such as Crash Bandicoot. One such charming series was Jak and Daxter, a trilogy which helped define the PS2 era. Mass Media, with the aid of Naughty Dog themselves, have given all three games — Jak and Daxter: The Precursor Legacy, Jak II and Jak 3 — a facelift and transferred them to the PlayStation Vita in full HD. Now you can take the dynamic duo with you in your pocket and relive the glory days of gaming regardless of where you are. The question is: Does the Jak and Daxter Collection on Vita uphold the franchise's high standard of quality?
Let's find out what's HOT and what's NOT in our review of the Jak and Daxter Collection for the PlayStation Vita.
Editor's Note: The review below is only partial and applies to the console version (PlayStation 3) of Jak and Daxter Collection. Check out our complete review of Jak and Daxter Collection review for more details to its story, and gameplay.
HOT
Nostalgia On the Go
Let's face it, the PlayStation Vita has had a rough year. The lack of "must buy" titles has become rather apparent. Now, while the Jak and Daxter Collection isn't new, it is a great addition to the handheld's lineup. There are many games you may wish to revisit, but quickly find they don't hold up too well today. Jak and Daxter doesn't suffer from this issue. All three games are a blast to re-immerse oneself in this world filled with likeable characters with top-notch and entertaining personalities. Things start off with Jak and Daxter: The Precursor Legacy with a young Jak and still-human Daxter traveling to Misty Island where a series of events set their adventure into motion, and transform Daxter into the orange ottsel (combination of a weasel and an otter) we've all come to know and love. From here, the memorable platforming and spin-based combat comes in droves as you traverse the varied and vibrant environments. Jak II and 3 mix things up by implementing the initial entry's platforming in open worlds. Furthermore, you'll be dealing with a more grown up and darker Jak (one that sports a goatee), heavier emphasis on weapons, hoverboards, racing and much more. Opposite of Jak, Daxter remains the same wise-crackin' sidekick. Regardless of which installment you're playing, you're sure to have a great time with these two as you recall your original encounter with them over a decade ago in 2001.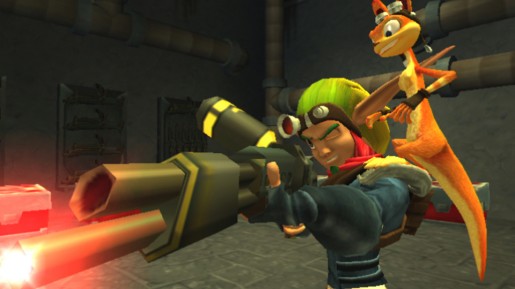 Quantity and Quality
Many times in life, we're forced to decide between quality and quantity. The Jak and Daxter Collection is the exception to this rule. For $29.99 ($10 less than the PS3's HD collection debut price), you'll be receiving three full-length titles. In a time where many people gladly toss $60 for 6-hour gaming experiences, the value gained from this thirty dollar package is outstanding. You're looking at 20+ hours for almost half the price of new Vita titles. Whether you're looking to expand your Vita collection or dive into the series for the first time, the value is there. As a bit of a disclaimer, the aforementioned "value" applies only to those looking for a portable title. If you simply want the game regardless of system, then the HD collection can be grabbed for $10 on PS3.
Jak and Daxter Collection (PS Vita) Review

,