Trophy Hunters Assemble
So you added three Platinums to your PSN account when the Jak and Daxter Collection released on PS3 early last year. If you did it once, why not do it again and cushion your trophy count with three more Platinums? The Jak and Daxter Collection on Vita, as with most of the handheld's titles with a console counterpart, contains a separate list of trophies that are identical to the PS3 version, allowing you to re-earn each trophy and further increase your bragging rights. This may not be considered one of the game's greatest features, but it was worth mentioning for those dedicated trophy hunters out there.
NOT
More Frame Rate Issues
When we review the Jak and Daxter Collection on PS3 last year, we mentioned slight flame rate issues. Those issues have only become more prominent in the transition to portable. The game doesn't run as smooth as the console and may put some off as animations seem a bit more rough. If you're a stickler for these kind of things, you may want to stick with the PS3 version.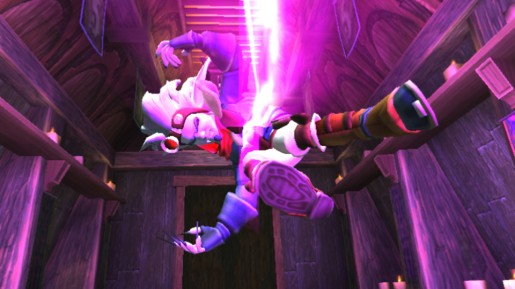 Problematic Touch Controls
The PlayStation Vita does not include L2 and R2 buttons. Because of this, the function of those buttons is often assigned to the rear touch pad of the Vita. Maybe some players don't have this issue, but I find it hard not to rest my hands on the back of the handheld. This leads to accidental activations of Dark Jak, the hoverboard and switching hover zones while driving. Depending on your personal holding style of the Vita, you may not run into this issue, but I feel most will. It isn't too comfortable to curl your fingers to place them in the designated indents on the far ends. The touch controls are also used for mini-games, but the problems weren't too noticeable there. It's these touch controls that leave the game feeling better on the PS3 with a DualShock controller.
Verdict
The Jak and Daxter Collection is a solid addition to Vita's game library. This is one trilogy well worth experiencing and it can finally be taken with you away from home. And lucky for you on-the-go players, it's fairly cheap when compared to other offerings currently on the market. Only the lower frame rate and occasional stuttering visually set this remake apart from its PlayStation 3 counterpart. Other than that, you'll have to asses how you hold your PS Vita, as people who lay their hands across the back will frequently deal with the annoyances brought on by accidentally activating certain features. Regardless, Jak and Daxter has found a new home and the Vita and its a good fit. If you haven't played the series yet (shame on you) or are just looking to spend more time with these two Sony posterboys, I'd recommend picking it up.
[Editor's Note: Jak and Daxter Collection was reviewed on the PlayStation Vita platform. The game was provided to us by the publisher for review purposes.]
Jak and Daxter Collection (PS Vita) Review

,