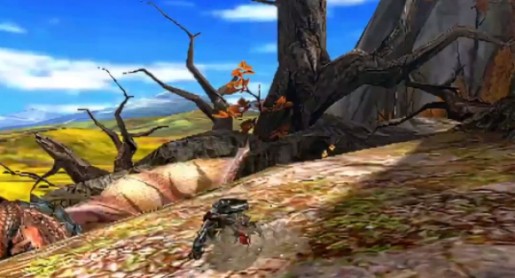 Famitsu has detailed some more information for the upcoming Monster Hunter 4 game coming out for the Nintendo 3DS.
Here are the details as translated by Andriasang:
-The game will not have water segments (water was one of MH3's big features)
-There will be some new elements surrounding Felynes. You'll once again be able to take two Felynes out with you on hunts.
-The game will have new weapons, but these are being kept secret for now. It will also have new armor designs.
-The game's story with the greatest number of NPCs in series history.
-Monsters will make use of the land formations.
-Under certain conditions, you'll be able to grab on to the monsters. (I'm not sure if this means you'll be able to ride the monsters or just latch on to them for attacking.)
-You'll be able to make use of hight differences in the stages to perform jump attacks.
-The game will have a free camera.
-Rather than a fixed base camp like past Monster Hunter games, your base camp will now move — somewhat like a caravan.
Much like other Monster Hunter games, Monster Hunter 4 will support up to 4 players. Famitsu.com is likely to upload some more screenshots for the game very soon.