When we first saw a crossover between a popular franchise and Dynasty Warriors, there were a wide variety of fears. Very few of them ended up happening and almost immediately fans were looking forward to this or that thing getting its own spin-off. Nintendo turned a lot of heads when they allowed The Legend of Zelda to receive that honor and after seeing how good the game result was, it solidified this might be the best way to proceed. With The Legend of Zelda: Breath of the Wild being the title that got so many people back into the franchise, it makes sense for Hyrule Warriors: Age of Calamity to be the follow-up, but will it result in a stale title or a fantastic cross between the two?
On paper, a follow-up to The Legend of Zelda: Breath of the Wild doesn't make a ton of sense. There are a lot of Zelda games that take place before or after major events and very rarely do we get direct follow-ups or prequels. So, setting Hyrule Warriors: Age of Calamity prior to the event of The Legend of Zelda: Breath of the Wild seems a little out of place and does little with the concept.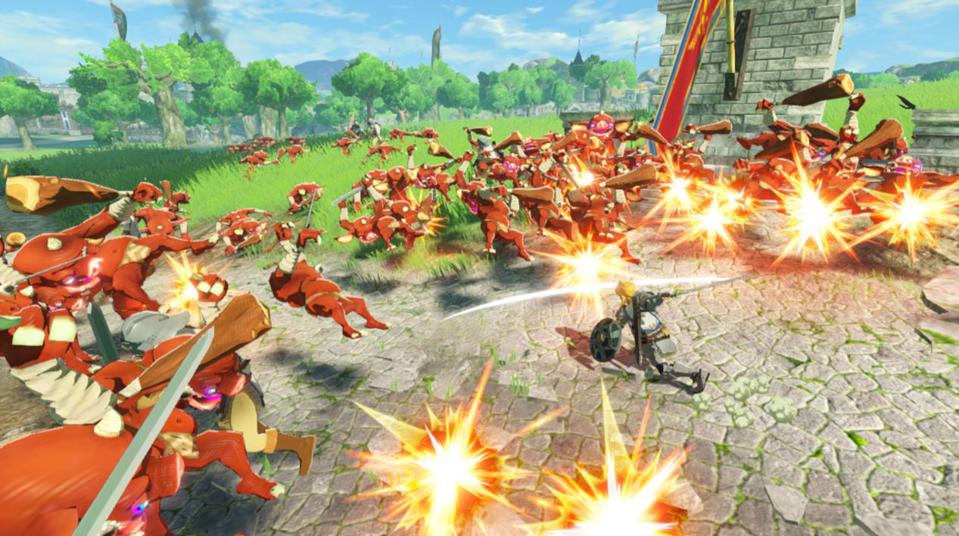 Unsurprisingly set in another timeline, the war mentioned in the original adventure is depicted in length. As a result, there are some twists and changes to the outcome but it still has the core problems found in a prequel. Ultimately, anyone even vaguely familiar with The Legend of Zelda: Breath of the Wild will be somewhat familiar with the cast of characters and certain boxes will be check. Like, you'll meet the potential pilots for the divine beasts, control said creatures, and this all ends with a confrontation with Calamity Ganon. This is not bad per se, it just makes for a rather needless distinction of this specifically relating to one story, as opposed to a variety. 
That being said, Hyrule Warriors: Age of Calamity is an oddly designed game. Instead of feeling like a lovingly crafted Dynasty Warriors game centered in a beloved franchise, over the far more common Romance of the Three Kingdoms, it feels like someone took The Legend of Zelda: Breath of the Wild and added Dynasty Warrior elements. This results in a rather deep, yet somewhat hollow experience.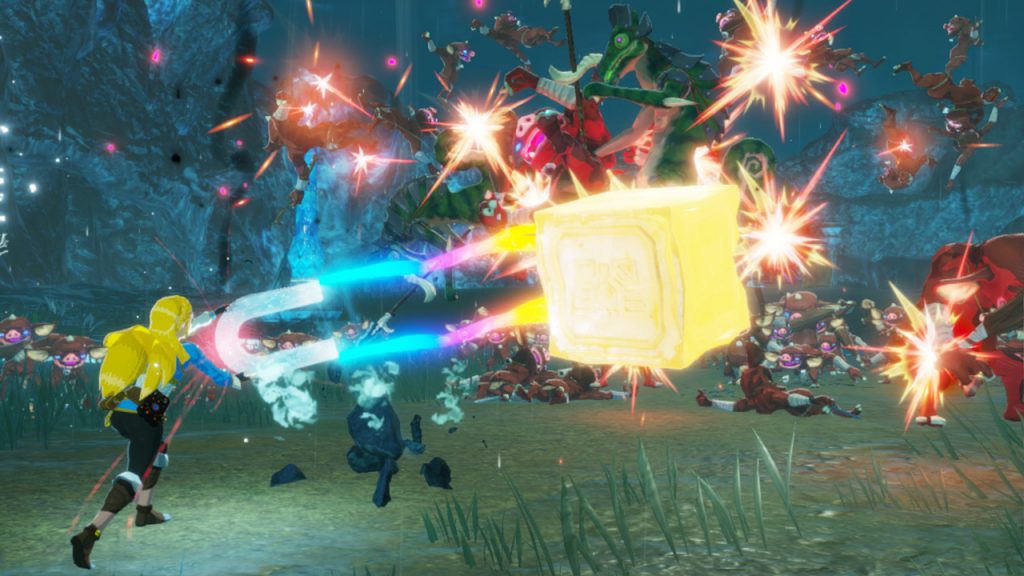 Where Dynasty Warriors typically suffers from lackluster bosses and underwhelming peons, Hyrule Warriors: Age of Calamity merely adds an element of The Legend of Zelda: Breath of the Wild to the mix. So, there are mindless peons, and players are basically asked to defeat more hardy enemies (Moblin, Lynel, Guardians, etc) over named generals, with each having moves you can punish. None of these are overly elaborate, they always have the icon corresponding with the action and a fairly generous window to do it, making them easier to damage. There is also a guard you can break for a special attack, along with a counter system centered around perfect dodging, it just doesn't add much. Hit an enemy, wait for an attack, and either counter, move to the side, or use a special attack like a bomb to stun them. 
Even if I make it out to sound rather robotic and simplistic, the result is a lot more engaging than the usual Dynasty Warriors title. Each type of enemy has its own window for attacks and certain abilities that are associated with it. Several had no use for some and others legitimately need to be baited to do the attacks needed to punish them. It's a good system of giving and take, built around a lot of familiar elements.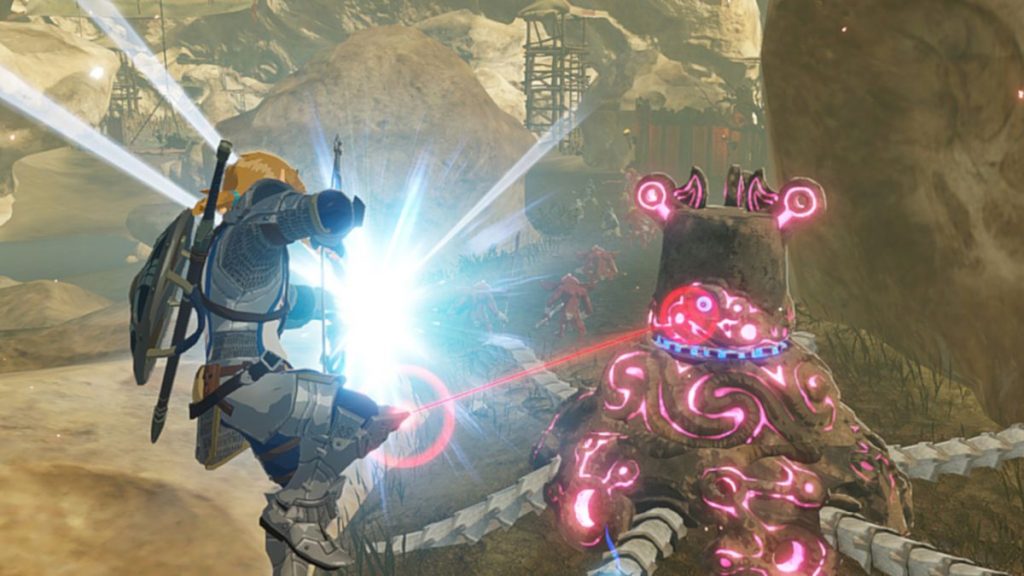 Defeating foes will give resources, typically whatever they would've dropped in The Legend of Zelda: Breath of the Wild, which have a lot of uses here. Outside of combat based stages, featuring the ever common go to certain places and fight enemies objectives found in these type of games, there are various tasks around the world. None of these are particularly engaging, just this spot needs a specific resource and another spot requires another resource that you need to complete. Doing so will unlock new attacks, benefits, or in some cases resources, such as the blacksmith. 
Another use of materials is making dishes that give benefits for a given stage. This can make a hard challenge, like defeating 300 enemies a lot easier or allow you to survive multiple attacks that require a good defense. Additionally, weapons can be fused stronger, have additional benefits like arial damage boost, plus armor, and more. 
Hyrule Warriors: Age of Calamity Review – Verdict
Even if Hyrule Warriors: Age of Calamity is more The Legend of Zelda: Breath of the Wild than Dynasty Warriors, both games are present. The gameplay is still an odd mix of mindless fun and engaging challenge that makes it really fun to play. It would be nice to see more done with the concept, though there is only so much that can be said for the concept. Perhaps the best way to put it is, given the concept, it's the best possible outcome and that is really all that matters. 
[Editor's Note: Hyrule Warriors: Age of Calamity was reviewed on Nintendo Switch and a code was provided to us by the publisher.]