Kickstarter and Indiegogo tend to be a mixed bag. Sometimes they offer a really cool product, like my Nomatic travel pack made my trip to E3 a lot easier, where as other times we get things like Mighty No. 9. Outside of software there tends to be a variety of interesting electronics that hope to satisfy one need or another. Among the most interesting is the Mu6 bluetooth headphones.
What makes the Mu6 so exciting is the thought that went into the product itself. Arguably one of the most commonly requested, even in the world of gaming, feature is active noise cancellation or ANC for short. This has lead to a lot of companies offering a lackluster version of it, typically offering it on one side of the headphone, or other versions of it like the Spearhead VRX's environmental noise cancellation or ENC. Not only does the Mu6 offer the superior hybrid version (microphones on both sides), a lot of thought went into how it's implemented.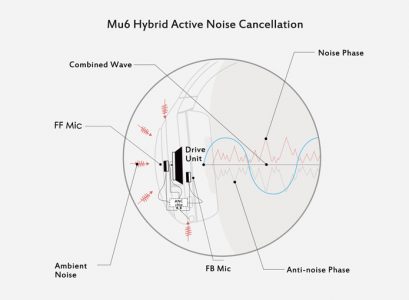 Similar to the Sony WH-1000XM2, they boast a feature called smart touch & talk. The idea behind this is simple. If you're talking to someone and don't want to remove the headphones, simply put your hand on the left ear cup and it will reduce sound volume, making it easier to speak to someone. It's the type of feature that's good if you're on a plane or doing something where the interaction is shorter than putting on and removing the headphones. Another safety feature is transparency mode, where you're able to hear things as if you're not wearing headphones. Not the best if you want to zone out, but fantastic if you're walking down a busy street or just waiting for your pizza delivery.
In addition to ANC, the Mu6 attempts to offer easy hearing optimization. By using young teens, who likely haven't experienced much sound damage, and sound programmers, they've came up with what they consider the perfect human hearing condition. The purposed advantage to this is, by following a couple simple prompts via a smart phone app, figure out what the headphones need to do in order to achieve that level with your current hearing.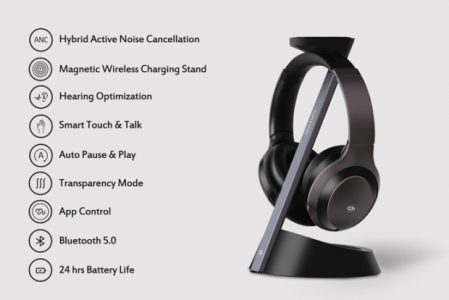 Outside of main features, what stands out for me is the battery life and stand. Besides charging via USB, the Mu6 has a special stand that connects the headphones via a magnet and will charge them wireless. A full charge takes about 2 hours and will yield around 24 hours of play time, with ANC enabled, and roughly 35 hours without. This makes it easy to leave on a desk, use on a phone to game or simply go about your day to day life.
While these headphones are designed more with music in mind, they certainly offers players a good immersive experience at a low cost. Those who support the Indiegogo campaign can score a pair for either $149 or $169, instead of the usual $250. The main downside, besides the usual stigma attached to campaigns like this, is the lack of 3.5 mm out. This limits what players can potentially do, though Bluetooth still offers a fair amount of options.