One of the hardest products to buy is headphones. Even if they sound and feel amazing in store, that might not hold true long term, match your lifestyle or give you the experience you were expecting. This is even harder for gaming headphones, since a number of features don't work, with countless more not even being on display. This is one of the biggest struggles 1More has to contend with, as it's hard to sell a product like this without actually experiencing it. This was a concern going into the Spearhead VRX, but with plenty of features, fantastic sound and a premium feel, is it enough to stand out or is it a fancy wrapper on a poor product.
While presentation is easily the least important part of any product, it helps show 1More wants this to be viewed as a premium product and it works. The box starts by having some lovely images and a texture that stands out from simple cardboard or plastic. The box itself is closed via two magnets, which opens to the headphones and a number of sketched images of the headphones themselves. Even the device itself is held down by hook and loop fasteners (Velcro) instead of the usual plastic coated metal ties.
Similar to the box itself, the headphones are well constructed. With metal accents, good weight and feel and leather ear pads gives it a premium look and feel. Even if the included cords and bag aren't anything special, the headphones feel like a decent quality product and exceed what you'd find on similarly priced products. Or, at the very least, be a sleeker version of the Turtle Beach Elite Pro Tournament headphones.
To test these headphones, I used them on my journey to platinum Spider-Man and Labyrinth of Refrain: Coven of Dusk, play through the latest Destiny 2 expansion Forsaken, bested the latest Elder Scrolls Online dungeons, gave Dragon Quest XI some love and even some upcoming projects I can't talk about. To put it simply, I've used them a lot. The first thing that stands out is how well they feel long term.
Recently I've had a lot of discomfort wearing my Astro A50 for more than two hours. This is something I had hopes to correct with my LucidSound 20, which I got a while back, but those caused similar issues after a similar amount of time. As for the 1More Spearhead VRX, I did not feel discomfort, even after wearing them for seven or so hours. They felt fantastic and gave me the experience I was looking for, without any of the negatives that went with it.
Even in use I found them to be similar, if not better, than my Astro A50 when it came to actual sound performance. While a little bit on the quieter side, I noticed subtler things with them and the bass had more pop. When using them with a different source, such as my Switch or iPhone, it delivered a solid performance, to the point where I could see using them on the go, ignoring the fact they're not the most compact device.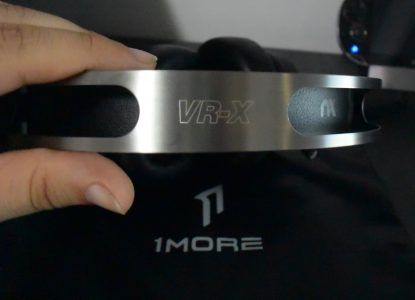 Surprisingly, the Spearhead VRX has a solid mic. When doing tests on my computer it managed to pick up my voice, with more than enough clarity to use it in a tense situation, such as a raid in Destiny or trial in Elder Scrolls. Best of all, even asking random people I came across while doing quests and other things noted it having good clarity, though some noted it was rather loud. So, you might want to look into lower it or testing it a bit before playing with others.
For better or worse, these are meant to be PC gaming headphones, which means everything else takes a back seat. While I couldn't load the program on my Mac, which was a fairly big disappointment, the program itself offered a number of options to control the headphones. These ranged from lighting, effects, sound, profiles and so much more.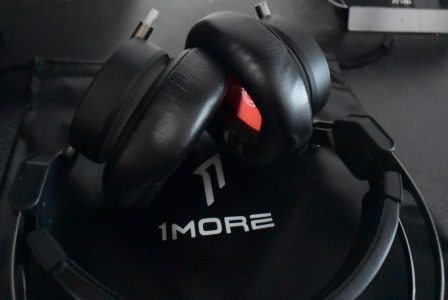 Thankfully, the program itself is fairly simple. Large knobs control the output, with other options having straightforward uses. So, if you want to change the color illumination, you can select a basic color, use the chart figure out how to get the desired look and/or effect. This allows gamers to get the experience they're looking for, without a lot of effort to get there.
The downside is, pretty much every other platform takes a hit. When using with my Mac on OSX Mojave, I could not control the volume when connected via USB. Even with a YouTube video on next to nothing it was pretty loud and easily surpassed a lot of other units I've used or the Spearhead VRX connected via 3.5 mm. It also registered button controls, without actually me the option to use them. When connected via 3.5, I could not use any on headphone control with my Mac.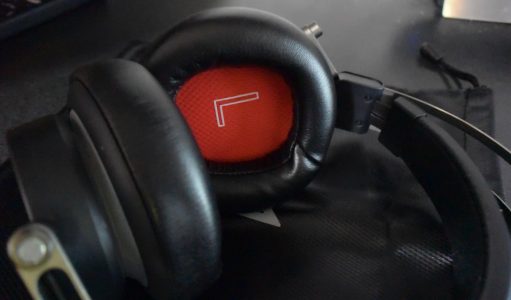 Similar things occurred with my PlayStation 4 and Switch. The buttons do absolutely nothing, so there doesn't seem to be a way to mute, decrease or increase the volume, control the mix and more from the headphones themselves. This is a massive downside for console players, as they're amazing headphones, especially when connected via USB, though the uses seem so singular that it's hard to justify using them outside of that one situation.
Verdict
The 1More Spearhead VRX is easily one of the best gaming headphones I have ever used. With top notch presentation and solid build quality, they feel like a product worth the price, unlike a lot of similarly priced things. When connected via USB, the sound was pretty amazing, exceeding other units I've used in the past. Even with a 3.5 connection it offers surprising sound and impressive mic clarity. Despite having a PC focus and having some issues with the PlayStation 4, I think they'll be my go to headset for the foreseeable future.
[Editor's Note: 1More Spearhead VRX Gaming Headphones was provided to us by the publisher for review purposes.]