Hitman 2 has arrived and Agent 47 has returned – this time with an entire story arc of missions in one go. Released on PlayStation 4, Xbox One and PC, by IO Interactive and Warner Bros., the game sees the return of the famous stealthy assassin – whom has now starred in 9 video games and 2 blockbuster films. However, can fans ever get too much of the barcoded agent? Let's find out.
Continuing on the story from the rebooted Hitman, Agent 47 is once again after information about his past – though attention is moved firmly onto the Shadow Client. Without giving much more away spoiler wise the identity of the Shadow Client is revealed as someone associated with Providence. Therefore, everyone's favorite bald headed silverballer using assassin must attempt to dismantle the group via removing key personal. This time around there is also a snippet of Diana Burnwood's past that surfaces, explaining somewhat how Agent 47's handler became the woman she is.
As before, the overarching story gives meaning between the missions. Though decent enough to do this, it won't be winning any awards. What could do are the individual missions and locations players get to experience. This isn't a game to play through once and be done with. Each level holds more content, plots and ways to be completed for a single play to even scratch the surface. Even if this isn't instantly obvious to players, it is emphasized via an option for replaying each mission or whether to continue to the story.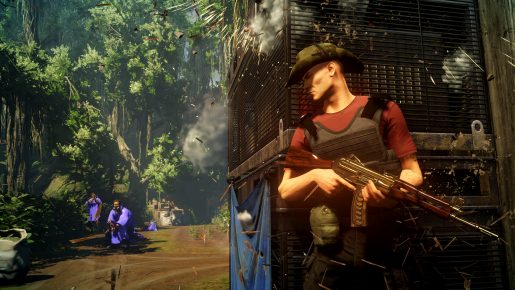 In an age where many games strive to give players choices and each a different experience there is so much to learn from in Hitman 2. From luring the targets into specifically orchestrated death scenarios to finding the perfect angle for a quick silenced shot and escape, how the targets demise occurs is completely left to the player. This can be daunting at first but this results in each level creating a small detailed world for players to explore every inch of – to find opportunities and more. There is plenty to find too, ranging from rat poison on shelves in far away kitchens to piranha filled waters.
No matter where it is, from a stylish, modern beach house to the a path thick with jungle plants or the courtyards of a castle, Agent 47 is the professional that can blend in. One of the iconic parts of the series is Agent 47's ability to disguise and this is no different in Hitman 2. While a generic outfit will get you so far many of the locations will require mastery of the shadows or an outfit expected at the location, and even then more clued up NPCs can determine you aren't whom you claim to be.
Weapons can be almost anything Agent 47 can get his hands on, including his fists. While he has access to the classic silverballers and guriotting wire, player might not always be able to smuggle these into areas – unless concealed ahead of time via pre-planning. A lot of the world is interactive and a line has to be drawn somewhere. Alas, it is slightly frustrating when some cans and bottles can be picked up and used, while others are only there in the world as rubbish. Even if these were non-lethal they could be used for distractions, instead they taunt a itemless Agent 47.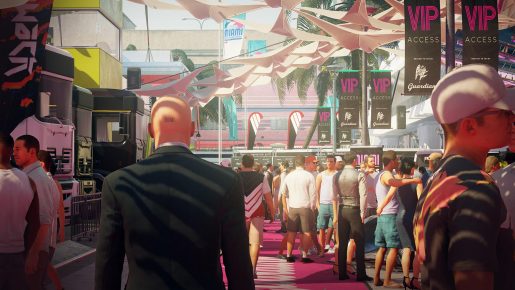 To take your assassin skills from basic to barcode is a detailed scoring system. This allows players to learn, plan and master levels to get the top agent scores. From gaining points from fresh disguises, exploring areas and the ways eliminations are carried out, to bonus points for being completely unseen and your kills being unnoticed, there is plenty to master. On top of this there are a range of challenges set for the player on each level and penalty points for having to kill non-target enemies. These all build into a total XP score to strive to beat.
From the outside you can look at the mission list and anticipate a short experience. Replay value aside each mission can easily take an hour or two to complete. Part of this is due to everyone in the area being a potential downfall point, where a noticed suspicious action can see opponents raining gunfire down upon you. This makes players extremely careful, planning every action and movement. While running is an option to players using it feels odd, with the narrative of the environments and the stealthy assassin affecting the the psyche of the player, making you worry that that it might give the game away. Perhaps this is why each mission takes so long but it shows how involved and dragged into the created world players can get.
Unfortunately, there are a few NPC related issues that are somewhat jarring. On the whole the AI is fairly competent, something which can be adjusted via the difficulty settings, though there are times where they react unnaturally. For instance when someone notices Agent 47 being out of place the player has ample time on the normal mode to simple turn around and walk away, rarely being followed or investigated.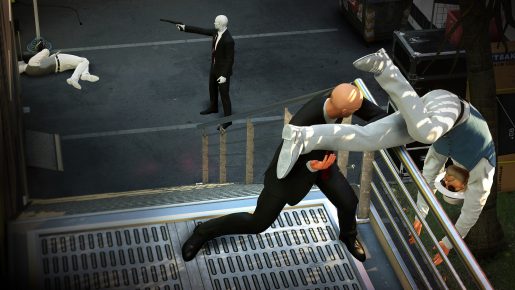 The more immersion breaking issue in Hitman 2 relates to crowds. Games don't always do crowds well, and Hitman 2 does crowd reactions well. Alas, when it comes to moving through a crowd the NPCs seem to gain the the magical ability to be bumped into and slide out of the way, with legs fixed in standing position. A simple animation set for the crowd members being bumped into, or attempting to get out the way, without sliding is all it would take, it just isn't present in the game. It's a shame as on the whole the animation set is impressive, which makes this stick out like a sore thumb.
Verdict
For those looking for a fun assassin game Hitman 2 is for you. The game not only does little to stop you attempting the level your way but is happy enough to guide you through one of the many available paths if you so wish. Whether you want to slowly and stealthily learn the routes of the targets and take them out with "accidents" or straight up silverballer them to the face, the choice is left to you. The individual missions are crying out for multiple players, though even from one playthrough you'll get one solid experience, and one that is different from everyone else.
[Editor's Note: Hitman 2 was reviewed on PlayStation 4, the game was provided to us for the review.]