Crossovers are a great way to introduce new players to different games. With Shovel Knight and Isaac (The Binding of Isaac) joining a number of Code of Princess, Azure Striker Gunvolt and more, Blade Strangers has enough to get people interested and ultimately sell them on different experiences. However, fighting games are tricky and when done incorrectly they can feel hollow or underwhelming. With so many big names, a fantastic opening and multiple modes, is Blade Strangers a must for indie fans or it a lackluster game that has nothing going for it besides brand recognition?
One of the many modes Blade Strangers has is story, which offers a new take on the usual crossover story. A number of AI machines were about to face a crisis and assembled a number of potential blade strangers to fight. Characters were altered to believe they're fighting in a tournament with fantastic prizes, ultimately leading to usual story beats.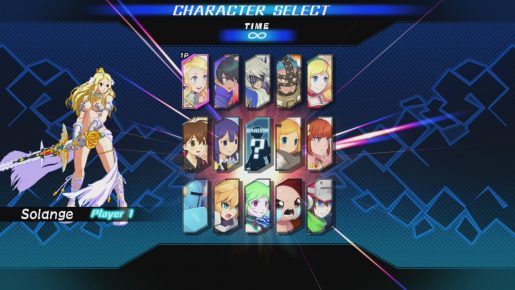 Instead of going with a completely serious story, characters glitch and make errors that the AI call attention to. These range from being confused as to what is going on to just getting the match number wrong. It's enough to keep players interested for a couple stories but not enough to sustain the mode. Something that is true for much of Blade Strangers.
Gameplay is fairly slow, kind of clunky and not too deep. Most characters have fairly simple combos that involve the same input multiple times and/or a direction and input(s). This makes it fairly accessible, to the point where I could do most combos on my first couple of tries, with the downside being how easy it's to enter the incorrect move.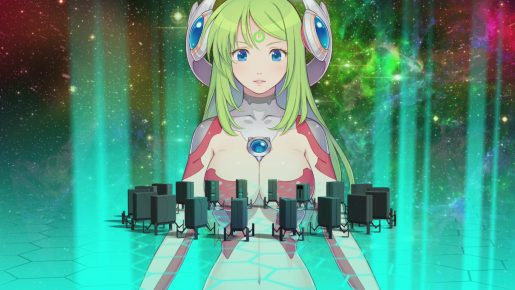 Tutorials would normally help players get better or learn the correct timing, though Blade Strangers goes with a fairly shallow experience. Take the combo tutorial. There is an explanation of what combos are, with a brief demo, but these are not enough to really get players into the more competitive side. Challenges typically bridge the gap between introduction to mastery, which is true here, except it really isn't that deep or elaborate.
Every character has five challenges that consist of a single combo. As near as I can tell, there is no way to switch the inputs to buttons, meaning you either know what L, H, E and S mean or you have to figure it out before you can actually attempt the combo. There also doesn't seem to be a way to watch, at least in game, the correct timing, making it hard to gauge where the problem is. I found a number of combos were done too fast or slow and I had to keep doing them until it was correct enough to count.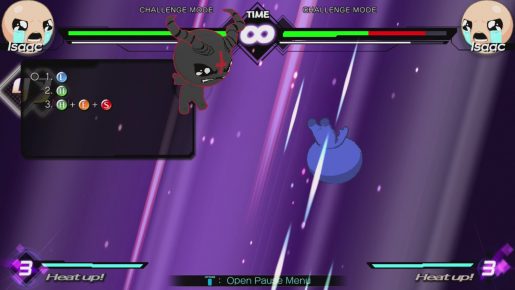 For those looking for a more competitive experience, there is an online community, complete with titles and other fun things and offline versus. There is also an optional arcade and survival mode where you just fight your way through challenges. These can add a lot of replayability and plenty to do.
If there is one upside to Blade Strangers, it's that the characters have a lot of delightful references. Isaac can stomp people with Mom's leg, Solang has some of her more memorable moves and so forth. It makes it a little easier to tolerate issues, even if they only go so far.
Verdict
Blade Strangers isn't an outright terrible game; it just doesn't feel like the concept ever got off the ground. While characters retain their charm, story suffers from a lack of originality. There is also a distinct lack of depth, as combos are fairly straightforward, with some moves using repeated inputs adding unneeded mistakes. Add in lackluster and in some cases awful sprites and it's an experience that really comes down to if you like the characters enough to see them in a new setting. If this is enough, then you might like this, otherwise it's a paint by numbers fighting game that doesn't do anything well enough to stand out beyond the fact notable characters are present.
[Editor's Note: Blade Strangers was reviewed on PS4 platform. The game was provided to us by the publisher for review purposes.]