After making its premier on the PC and Nintendo platforms nearly a year ago, Shovel Knight is finally making its way to the PlayStation and Xbox platforms. With inspiration coming from popular games like Mega Man and Super Mario Bros. 3, Shovel Knight has the potential to be something interesting. With these popular titles already setting the bar pretty high, is Shovel Knight a must for classic gamers or is it another game trying to cash in on established series and nostalgia?
Shovel Knight starts with the familiar story of a once great hero losing his partner, basically giving up on adventures following it and then eventually gets the chance to save the aforementioned partner from evil. Sure it's not the greatest or most original story ever, but it certainly feels like a story from a game in the '80s or '90s. And even though the story only exists to justify the events of the game, the dialog between the Shovel Knight and bosses are certainly amusing.
Since Shovel Knight is a homage to classic games or to a larger extent Mega Man, the main attraction is gameplay. Every level has a distinct theme, be it a haunted town or flying whale fortress, with unique enemies, hazards and elements. This helps make the levels not only memorable, but forces players to come up with new strategies for success. So one level might require you to think about rat positions to make a jump, where as another level forces you to time out your jumps based off electric jellyfish.
In addition to giving you different enemies to deal with, you also have a number of relics to use. Every relic has some sort of advantage, which can be used to make a previously difficult challenge easier or at least give you another option besides using your shovel. The dust knuckles can be used to glide across the air by breaking rocks or killing enemies, the war horn is an AOE attack, the fishing rod can sometimes give you ichor (think potions), and several other weapons. Unfortunately most of these relics need to be found and then bought, but that's also part of the fun.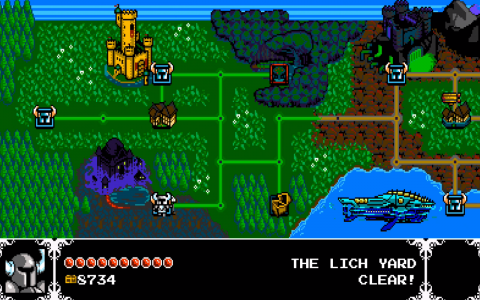 Throughout the world of Shovel Knight there are a number of secret rooms, hidden treasure and plenty more to discover. Most of these secrets can be found by examining the walls and looking for things that stand out. Like if you see a weird icon on the wall, then odds are you can hit the wall to reveal a secret room. Other rooms can be found by simply going another direction way, trying to jump outside of the level constraints, completing a difficult puzzle, fishing or figuring out another puzzle. Not only do these secrets give you something to work towards, they make Shovel Knight a deeper game.
While Shovel Knight offers varied gameplay, plenty of secrets and more, it suffers from pacing problems. Similar to the classic games it's based off of, Shovel Knight starts off as sort of challenging and then quickly becomes a difficult title. Over the span of roughly 20 levels, many of which are optional, you go from having to avoid a couple of enemies and make fairly doable jumps, to shaded levels with fake out platforms, enemies that exist for the sole purpose of causing you damage leading to your death and more. Considering Shovel Knight can be completed in under an hour and a half, this is a substantial leap that less experienced gamers might not care for.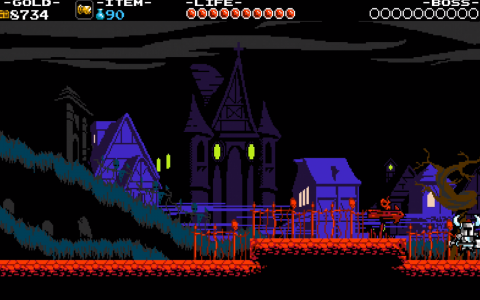 Thankfully there are tricks to deal with every section and anyone willing to do some trial and error can accomplish anything Shovel Knight throws at them (in the first cycle anyway), but this is something to keep in mind if you don't have a lot of skill. Especially since I don't think I fell once in combat or used a health restoring ichor, so most of my deaths came from missing a jump, timing something incorrectly or getting knocked over the edge. Naturally these are a lot more frustrating than repeated errors, as messing up in some minor way was enough to turn success to failure.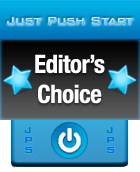 In a lot of ways this concept defined classic games. Rarely were gamers given a lot of chances and often times the design felt like it worked against us, but that challenge made completing those games feel like quite the accomplishment. In many ways Shovel Knight captures that, along with the idea of doing more with less, making it a game that classic gamers will enjoy. Sure it isn't particularly long and the difficult can seem steep at times, but once you get the hang of it, Shovel Knight is a pretty enjoyable title. For this reason, along with the upcoming free expansions, I strongly recommend Shovel Knight to anyone looking for a new take on the classics or enjoy challenging, but rewarding gameplay.
[Editor's Note: Shovel Knight was reviewed on PS4 platform. The game was provided to us by the publisher for review purposes.]
Shovel Knight Review

,