The PS4 and Xbox One era has been a dark time for tennis gaming fans because most of the good tennis games came out way back in 2011. The likes of Top Spin 4 and Virtua Tennis 4 never got follow up sequels as the big gaming publishers ignored the sport of tennis for many years. Thankfully it's now 2018 and we've got both AO International Tennis and Tennis World Tour. We've already reviewed AO International Tennis so today we get an extensive look into Tennis World Tour.
Sadly, the tennis revival in 2018 has been disappointing so far and it's sad for me to admit that Tennis World Tour is far from a complete video game. For some reason, they decided to release this game weeks before it should have been released to the public because it is missing two very crucial features.
Normally when game publishers release video games, they are complete with all of the features promised at launched. Tennis World Tour however has launched with minuscule features because online multiplayer is not ready yet and Doubles Matches have not been added to the game too!
As of right now, the only thing you can play is matches against the AI or play singles matches with a friend with another controller. The official Facebook page of the game says Doubles and Online matches is coming out later via a free update, but as of right now the game has been out for over 10 days and no release date for the extra content has been announced yet.
If you are hoping to buy Tennis World Tour, I suggest you wait until Online and Doubles matches are added. You don't want to pay full price right now for a game that is far from complete. The publisher should have delayed the release of the game because shipping out an incomplete product seems unfair to the consumer. It's probably best to wait for a price drop anyway since this is far from the tennis game fans had been hoping for…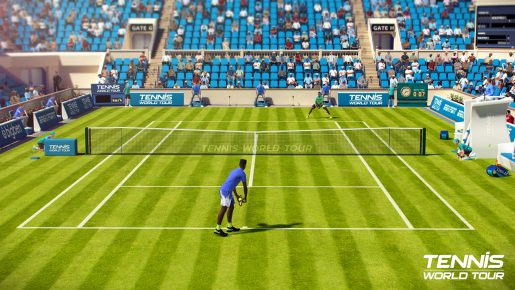 While the game lacks official tournament licenses, it does manage to have over 30 real life players into the game. Fans will love the huge amount of male players on offer as there's Roger Federer, Gael Monfils, John Isner and many more top players from the ATP. However, the roster seems a bit sexist because there are 26 male players compared to only five female players. The only female players in the game are Caroline Wozniacki, Angelique Kerber, Garbine Murguruza, Madison Key and Eugenie Bouchard.
The game is still missing a ton of favorites such as Rafael Nadal, Serena Williams. Novak Djokovic and more. Another thing that annoys me is the fact that Legends such as John McEnroe and Andre Agassi aren't included in the base game so you will have to either pay for the Legends Edition of the game or get them as paid DLC. I remember Top Spin 4 and Virtua Tennis 4 allows you to play as everyone for no extra cost!
You cannot even create missing players in the game like in AO International Tennis because the create options are abysmal and non existent. You don't have any options to customize the appearance of a created player as all you can do is choose from the already existing templates. The only thing you can really "customize" are the stats and the name for your chosen player and that's it.
Creating a player is mandatory if you want to compete in the game's lengthy Career Mode. The Career Mode is probably the best thing in the entire game because you are able to compete in a lot of tournaments during the year in your hopes to become the number one player in the world. There is even a fatigue meter to indicate when you should be taking a rest. If you exert too much energy, your performance will slump making you lose in actual matches.
The only other mode in the game aside from Exhibition is the 'Tennis School". The Tennis School is actually pretty helpful as it tells you how to play and even features some challenges for you to complete as well. Sadly though, there's nothing else to see and unlock as the features are bare here.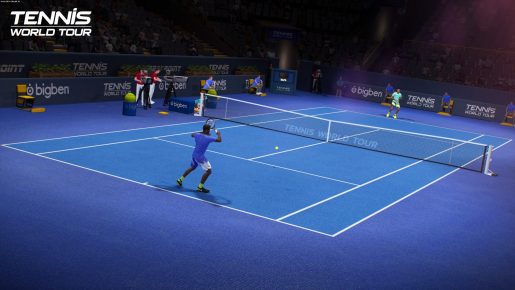 In terms of core gameplay, Tennis World Tour's physics feel slow, sluggish and unrealistic at its current state. Players move at a slow pace despite the game having a "sprint" button. There are also times the player will not even respond to your button commands which can be very annoying if you are in the middle of an intense rally.
The animation is also awkward as players will somehow hit the ball even though it's far out of their reach. The game also fails to implement sliding animations when you are playing on clay courts which is a bit of a big shame. Again, the developer says future updates will improve the gameplay but right now it's not enjoyable and far from the fluid gameplay we got from the Top Spin and Virtua Tennis series.
The only thing that feels right in the gameplay are probably the dropshots. Dropshots are the only effective thing in this game as normal top spin and flat shots don't feel as smooth like in other tennis games of the past. Don't get me started on serving as that is bad too
Presentation wise, the graphics are outdated and the game looks more like an early generation PS3/Xbox 360 video game. The colors look bland and fake and the players look like they have been made out of clay. That said, most of the male characters resemble their real life counterparts. As for the female players, let's just say their character models aren't flattering to look at…
Verdict
It goes without saying that Tennis World Tour is matched with Sea of Thieves as one of the worst video games I have played in 2018. The game is incomplete and should not have been released to the public at its current state. Even if the game was complete, the core gameplay feels sluggish and it's not very fun. If you had to choose between Tennis World Tour and AO International Tennis, the latter seems to be the better option for tennis gamers right now. Avoid Tennis World Tour until more patches are released.