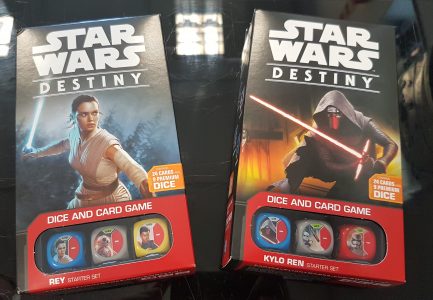 Star Wars: Destiny is a game that combines card drafting and dice rolling, all set in the world-famous franchise's universe. The game is a 2-player battle to the death, good versus evil, with a range of iconic characters ready to fight. Both players need a separate starter pack, with two currently available, which come with everything a single player needs to take to the battlefield. Almost surprisingly, even if you're not a huge Star Wars fan there is a game here for you to enjoy.
For this review, we have been using the Star Wars: Destiny Rey Starter Set and Kylo Ren Starter Set (booooo!). In the two starter sets you get the same quantity of cards, with a fair few being unique to the good/evil side. For example, in the Rey Starter Set the main hero Rey is joined by Finn, while Sith Kylo Ren is backed up by a First Order Stormtrooper. In theory, these Stormtroopers shouldn't land a shot if the films are to go by yet the First Order Stormtrooper is balanced in Star Wars: Destiny and can dish out some decent damage.
Each starter set comes with a set of damage, shield and resource tokens which is helpful to create one large token pool. Naturally, rules are included that spell out the setup of the game from the point of view of the two main characters. The two rule sheets are nearly identical mostly using the names as the examples as setup is symmetrical. Finally, each pack comes with all the dice players need for the starter set cards. These include the dice for the two characters in the starter packs and any needed for support units or equipment.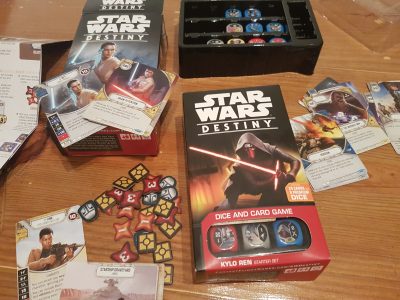 On a given go players take it in turns to perform 1 of the following actions. Players can play a card from their hand, if they have the number of resource tokens that it requires. Activate a character or support, this is where players roll the die/dice related to that card and any in-play upgrade dice associated with that character. Players can spend an action to resolve previously rolls dice committing to their effects. These can be dealing damage to an opponent, taking a resource or even nothing if you've rolled badly. If a player isn't happy with a previous roll they can discard a card from their hand to reroll dice. Character cards, and support cards, have an ability on them which players may or may not be able to use. Finally, when a player cannot do anything else, and if they are first to finish, they may claim the battlefield. Claiming battlefield's means you get to activate its ability and in the subsequent round you will start first. Doing this also ends your turn and means you automatically pass on all following turns of that round.
Plenty of depth and strategy is added into the game via the card element of Star Wars: Destiny. The abilities and upgrades players can get is partially about when to play them for maximum effect. On the other hand, it is also about being able to gain the resources needed to play them. Cards are balanced in this way with some quick cards costing no resources at all. Conversely, others with more implicating abilities or permanent weapon upgrades often cost a bit more. I love when player choice is a key mechanic as you can adapt what you do in direct response to your opponent's moves. One additional element of card strategy which builds into the deck building element is some cards have differing effects: for instance, if they are played in the first round. This makes the choice of when to play cards that bit harder but also more rewarding if done correctly.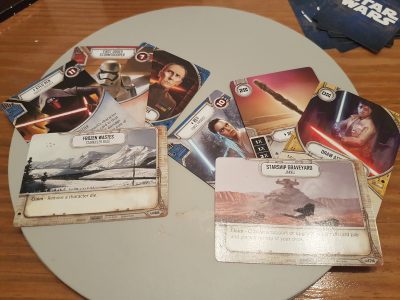 Given the size of the Star Wars universe and brand, the potential for expansions is extremely high. As with other games that involve collectable cards there are already plenty of extra cards and dice for players to pick up. From the two current expansions alone, called Spirit of Rebellion and Awakenings, there are a total of 72 booster packs. Each pack includes 5 cards and a dice, with the Spirit of Rebellion booster packs in total adding a colossal 160 new cards to the game!
If this isn't enough for you I'm sure many more fan favourite characters and Star Wars equipment, droids and general stuff will be added in in due time. Especially when Star Wars: The Last Jedi releases in cinemas later this year. The base game is robust enough that you'll can play with the two starter sets over and over again. The purchase of additional content isn't necessary but if you enjoy the game you will have to show some serious will power not to splash out for more!
Given the sheer amount of potential cards, balance could become an issue. Thankfully nothing game breaking has been included in the cards of the two Starter Sets, at least to a Star Wars Destiny novice like myself. Some cards are better than others but most of the time I was actively choosing between multiple cards in my hand that each offered me a decent return for their resource cost. One of my favourite features of the game is that players can deploy into the battlefield additional units. Rey for instance has in her deck the awesome and loveable BB-8 droid. Often card effects cannot target these additional units but they also do significantly less than the main two hero cards.