Welcome to Just Push Start's 'Mini Feature' on the title Cubixx. Recently Just Push Start got to play the unique PlayStation Mini game called Cubixx and ask the developer Laughing Jackal a few questions.
For the life of me I cannot place where I have played a game near exact or similar like Cubixx. One thing is for certain, it will test your metal. Your playing field is a cube. You are a spark. More like spark from a welding torch to be exact. And what do you do with this game? Simple. Your objective is to reach the required percentage of cube to be cut away.
So before the questions, lets kick off the HOTs and NOTs
HOTs
Lets Burn
Using either the D-pad, Analog stick or the Buttons for movement, you then hold down Left or Right shoulder button to begin burning across the face of the cube. Cut out a square, a rectangle or any weird shape inbetween. You won't find circles in this game though, as your cutting only applies to right angle turns.
Appeal To The Senses
A rather groovy soundtrack accompanies this very simplistic yet engaging game. Techno beats pump out on a game which doesn't promote or try to aim for high end graphics, but does the job with its basic design. And its this design which doesn't lend much to variety still appeals to the old school of hardcore arcade gaming.
Enemies
Well, yes I guess. On each surface of the cube is an enemy shaped like a square. These move around randomly on the surface and if you either run into them, or they run into your scorch mark before you section it off against a wall you will lose a life. And you only have 3 lives. Take it from me, things 'heat' up pretty quick if you pardon the pun.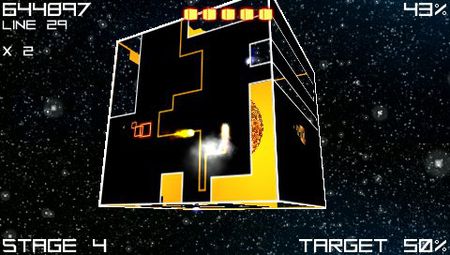 NOTs
Am I Only A Welder?
A great time killer yes, but the downside is how long can you put up with it. With brain benders such as this you really do, or should I say, can only play them in stints otherwise the very image of you careering around your cube could lead to you closing your eyes and seeing arc welding marks appear across your eyelids.
Verdict
Cubixx is pretty basic in options and implementation. You get what you pay for, which is an entertaining little brain tester. But in the end, there can be far more engaging titles out there worth the effort that do the job and do it bigger and with more variety. With that in mind, I found it addictive to a point and is one to recommend if you have a knack for these kinds of titles.
Q&A
Just Push Start Asks –What games or concepts, if any, inspired Cubixx?
Laughing Jackal Answers – Cubixx was inspired by a variety of 'area filling' games that appeared from the early eighties right on through to the present day. Probably the most obviously parallel, and the one which most people will think of first, was Taito's Qix. However, we didn't want to use someone else idea wholesale and our Manager had been interested in maybe trying this game mechanic out on 3D objects. That's how Cubixx was born.
JPS –How long was the development time, and what part of the game took longest?
LJ – The development took somewhere between 10-12 weeks from start to finish (including concept time). We already had the roots of the idea formed and once we sat down and solved a few issues that raised themselves at the concept stage (e.g. "What happens if the user cuts away a face so they can't reach an edge, so therefore can't cross to another face?"). Once we resolved these questions, things went pretty smoothly.
The hardest parts were probably making the movement between surfaces nice and smooth, and not frustrating for the player. Another area which needed a lot of consideration was how to motivate the player to keep playing. Rich, the programmer thankfully had a lot of ideas – all the line-length and face-crossing combos were his ideas and ultimately made the game the fun title that it is (cheers Rich!). J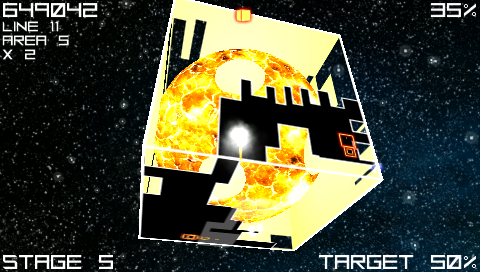 JPS –Why did you choose PSN over Xbox Live? Was this because of the Minis range, or for other reasons?
LJ – There are a variety of reasons. XBLA is obviously a great platform and, in all honestly, probably the one with the largest exposure in terms of console DDL services. However, Microsoft require you to have a publisher in order to get on to the service and there are a variety of hoops to jump through along the way. Minis is a very easy platform to work on.
Due to the work we had completed with publishers in the past we have built a very good relationship with the people at SCEE. It was a natural transition for us to go from "work for hire" to "Minis publisher".
Also the bite sized nature of Minis titles suits us. We can only justify developing concepts so far, which not only forces us to be pretty creative, but allows us to work on lots of different things within a relatively short time frame. That's something I personally really enjoy.
JPS – How would you describe Cubixx to sell it to people?
LJ – Cubixx is the ultimate evolution of the area-capture genre originally popularised by Qix, and kept alive via games like Fortixx and Void.
Not only is Cubixx really easy to understand and get into, the game is very fast paced and has an excellent risk/reward scoring system that forces you to think aggressively and creatively in order to advance through the levels.
At its heart, Cubixx is an old-school score chasing game. There are no unnecessary frills. It's just pure gameplay that's very nicely presented.
I should mention here that we have exciting plans for Cubixx in the future, so watch this space!
JPS – Thank you very much for your time