Folks have been playing Minecraft on various devices for years; but the release of Minecraft: Nintendo Switch Edition introduces players to a world where their Minecraft addiction needn't end. Sure; there have been portable versions of Minecraft prior to this, but they offered small world sizes and a limited set of features. Minecraft's arrival on Switch sets the user free to explore, create, scavenge, and adventure without the limitations of previous portable entries. Though Minecraft: Nintendo Switch Edition may not be the most technically advanced version available on the market, it is certainly the most unrestricted version and that makes it an attractive offering for Minecraft fans.
The main queries you may have concerning Minecraft: Switch is likely in regards to new content, performance, and if there are any exclusive features offered. We have the answers.
If you are a newcomer to Minecraft, the Switch version is a splendid place to begin your journey. The experience one has with Minecraft is totally up to the individual. It is a game that is shaped by your actions and the time you are willing to invest into it. By presenting players with the freedom to build and craft their own creations; or to explore, scavenge, and survive in the environment, Minecraft is a game that defies explanation. Why you find Minecraft appealing may confuse some, but that is what makes Minecraft such an alluring game – it is a distinct experience for each person that plays it.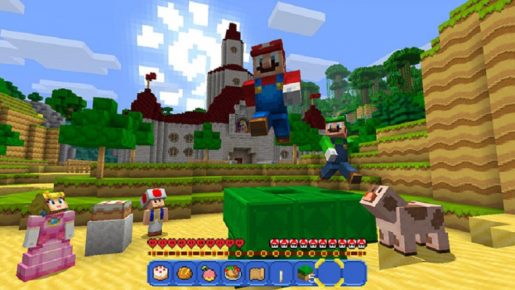 Regardless of how you immerse yourself into the world of Minecraft, playing it on Switch provides just as much as freedom as the game itself. Play, create, and explore wherever you see fit. Some find inspiration while sitting outside on a warm summer day, and now you can take your Switch with you and be at the ready to craft a new project in the game once inspiration strikes.
One feature that helps to differentiate Minecraft for Switch from all the other versions available is the Super Mario Mash-Up Pack –  this content is also available in the Wii U version of Minecraft. The Super Mario Mash-Up Pack provides players with the items and tools to create their own Mario-themed maps. If creation isn't your thing, you can also load the pre-built Super Mario World map and partake in Survival or Adventure Mode.
The Super Mario World map is complete with memorable music from past Super Mario games, and this pre-built map does an excellent job at conveying the idea that you are exploring the Mushroom Kingdom. Little details like having the Angry Sun from Super Mario Bros. 3 in the distance, using a pipe to navigate between areas of the map, or using a Fire Flower to illuminate a dark passage help to elevate the enjoyment a Mario fan will have with Minecraft courtesy of this map.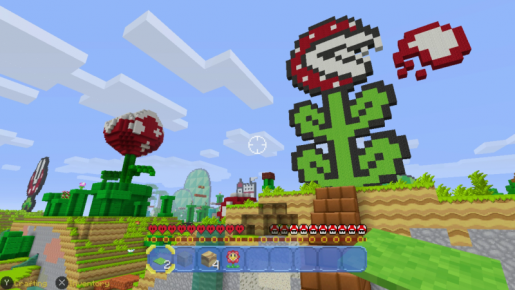 While some will use the Super Mario World map as a means of inspiration to create their own Mushroom Kingdom using the tools provided, others may opt to explore and enjoy the setting. With platforming puzzles and secrets to discover, the Super Mario World map offers plenty of entertainment value in its own right. It may not be a true 3D Mario game – thankfully we have Super Mario Odyssey to look forward to later this year, but the Super Mario World content found in Minecraft: Switch Edition is charming and pleasant to play.
Another difference is the scale of the game and how it compares to other versions. In comparison to the Wii U version, Minecraft for Switch offers a much larger field of play – the Wii U map size was limited to 864 x 864, whereas the Switch world can be as large at 3072 x 3072. Granted, Minecraft: Switch isn't as large as the PC, Xbox One, or PS4 version – which measure at an impressive 5,120 x 5,120. However, it is significantly more vast than Minecraft: PS Vita Edition or the Pocket Edition. If you want the best portable version of Minecraft, look no further than Minecraft: Nintendo Switch Edition.
In terms of performance, Minecraft for Switch runs well in handheld and docked mode – though there is a slight concession to be made while in handheld mode. While playing the game in handheld mode, you will notice a limited draw distance as pop-in becomes more apparent. It's a minor criticism, but something that is worth mentioning. Aside from this one issue, the game looks great in portable mode.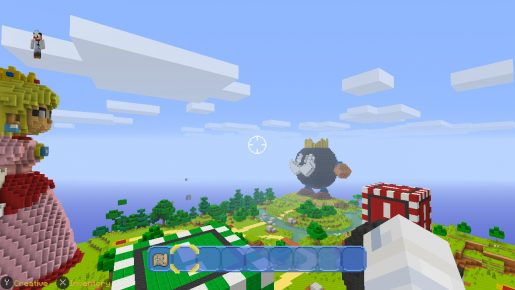 Multiplayer is fully featured on Switch, and even allows for 4-player local multiplayer. If you do plan to play Minecraft with others in a local setting, you will need multiple controllers as the game cannot be played with just a single JoyCon. Online allows for up to 8-players, and there are currently two mini-games available to play – Tumble and Battle. You can play with friends online, or join public matches and compete with players from around the world. Creating a lobby is simple, and joining a match is quick and painless. Online worked well in our play sessions and we didn't encounter any noticeable lag or performance hiccups.
If you own a Nintendo Switch and have been curious about Minecraft for some time, this is a great version to become acquainted with. The convenience of being able to take the game with you will allow you to enjoy the relaxing atmosphere the game provides in your leisure. Fans of Minecraft looking for the best portable version will find that here with Minecraft: Nintendo Switch Edition.
[Editor's Note: Minecraft: Nintendo Switch Edition was reviewed on the Nintendo Switch platform. The game was provided to us by the publisher for review purposes.]
Minecraft: Nintendo Switch Edition Review

,