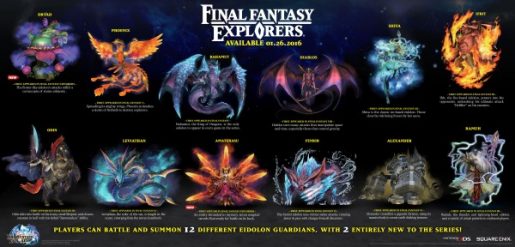 With Final Fantasy Explorers releasing in several weeks in North America, Square Enix revealed today an infographic of the Eidolons that will be debuting in the game.
According to Square Enix, players will be able to battle 12 powerful eidolons solo or in a party of up to four players. Once they've defeated the Eidolons, the player can summon them while in Trance Mode, which gives players a temporary ability where players can also transform into other characters from the Final Fantasy series. Following the completion of the main story, an "abberant versions" of each eidolon that are harder than the original counterparts will also be available to battle.
Bahamut (Final Fantasy) – Bahamut, the King of Dragons, is the only eidolon to appear in every game in the series.
Dryad (Final Fantasy Explorers) – The flower-like eidolon's attacks inflict a cornucopia of status ailments.
Phoenix (Final Fantasy V) – Spreading its mighty wings, Phoenix unleashes a storm of fireballs to destroy explorers.
Diablos (Final Fantasy VIII) – Diablos uses many attacks that manipulate space and time, especially those that control gravity.
Shiva (Final Fantasy III) – Shiva is the classic ice-based eidolon. Those close by risk being frozen by her aura.
Odin (Final Fantasy III) – Odin rides into battle on his trust steed Sleipnir, and cleaves enemies in half with his lethal "Zantetsuken" ability.
Ifrit (Final Fantasy III) – Ifrit, the fire-based eidolon, powers into his opponents, unleashing his ultimate attack "Hellfire" on his enemies.
Leviathan (Final Fantasy II) – Leviathan, the rule of the sea, is fought in the ocean, emerging from the waves in ambush.
Amaterasu (Final Fantasy Explorers) – An entity shrouded in mystery, seven magical swords float ready for battle on its back.
Fenrir (Final Fantasy VI) – The bestial eidolon uses vicious melee attacks, running down its prey with charges from all directions.
Ramuh (Final Fantasy III) – Ramuh, the thunder and lightning-based eidolon, uses a variety of attack patterns to confound players.
Alexander (Final Fantasy VI) – Alexander resembles a gigantic fortress, using its massive body to create earth shaking tremors.
Final Fantasy Explorers will be available for 3DS in North America on January 26 and in Europe on January 29.