Just Cause 3 is the brand new open world action adventure video game developed by Avalanche Studios and published by Square Enix. Set a few years after the events of Just Cause 2, the main protagonist Rico Rodriguez himself has decided to call time on working for The Agency and return home to, a fictional Mediterranean island, Medici. It just so happens that Medici is now controlled by a brutal dictator, General Di Ravello, whom Rico must help remove from power.
The game doesn't mess around and players are instantly thrown into the action as soon as the opening cutscene finishes. Onboard the plane with Rico returning home is American gun for hire, and larger than life, Tom Sheldon who gears you up with an assault rifle and an RPG for "something… subtle". From here Rico exits the plane jumping on top of the still airborne plane to take out some SAM turrets. This opening scene sums up the game and is as subtle as Just Cause 3 gets when explosions are to be made; and there are a lot of explosions.
As the story goes, defeating an evil madman whose life admission is to rule the world is the basic premise and it doesn't get much deeper. If Just Cause 3 was a film it would be part of the Expendables franchise. There is just enough of a story to loosely tie together the ridiculous, over the top action. But you don't go to see The Expendables for a deep narrative and you should just sit back and enjoy wreaking havoc across the Mediterranean island in Just Cause 3.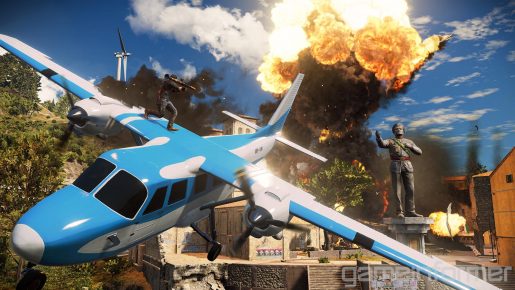 Liberating the island piece by piece is the general aim of the game and the concentrated settlements add areas to focus your firepower. This is where the new manoeuvrability of the main character and Rebel Drop system comes into play. With no currency in Just Cause 3 players obtain vehicles and weaponry via looting or from Rebel Drops. Like Just Cause 2's Black market, Rebel Drop is accessed by a menu system. Here players select things from RPGs and sniper rifles to tanks and vintage cars. Once selected simply throw out a Beacon and wait. This allows the player to tackle a settlement in a number of different ways.
Another new feature that gives players additional options is a wingsuit. This is a huge upgrade on the grapple shot and parachute combo available to Rico in the past. The wingsuit allows the player to traverse the landscape a lot quicker: zipping from one area to another. In addition the parachute has seen some love and attention, offering a much more stable platform to gun down enemies from. This provides players the option to fly towards a settlement with the wingsuit, pull open a parachute and take down a number of enemy soldiers, potentially even clearing the settlement, before even hitting the ground.
Visually Rico is a guy that looks more than ever like a Mexican lookalike of Nathan Drake. Like Drake, instead of being part of a star studded Expendables line-up of action characters our rugged hero Rico Rodriguez is the epitome of a one man army. Some will find the bullet sponge nature unrealistic and other will simply enjoy walking through enemy troops and feeling like a boss. Just Cause 3 doesn't set out to be realistic, with tweaked physics to allow more chaos to ensue, so this fits the style of the game: putting fun and entertaining before realism and it works for the game just like previous Just Cause titles.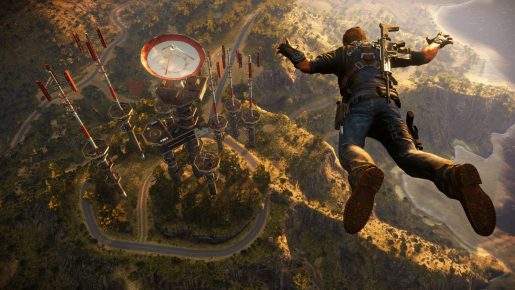 Sized at 400 square miles the map of Just Cause 3 matches the islands dimensions seen in its predecessor but it offers gamers a more interesting setting than before. Taking the series to new heights is well exactly that, height. The verticality of the islands design is impressive. From climbing huge structures to deep ravines and tunnels: the map feels far from flat and boring and offers something of an edge. It is now also possible to venture underwater with subterranean caverns to explore. It is another different flavour of gameplay that previously in the series wasn't available.
Avalanche Studios is an independent developer that is not new to creating huge open world games. After just releasing Mad Max, a game that runs incredibly well graphically and smoothly at 4K I am certainly disappointed by the optimisation that allows for only decent 1080p visuals with a GTX 970 Ti (or an equivalent card). The specs that Square Enix released with 6 GB of RAM and 2 GB of VRAM on a graphics cards as the minimum are most probably worryingly accurate and with specs below this I would go as far to say that the game will be completely unplayable.
The biggest disappointment with Just Cause 3 is that you cannot jump online and cause mass destruction with friends. After the successfulness of the multiplayer mod for Just Cause 2 it seemed only logical that Avalanche Studios would add a multiplayer or at least coop style experience into the game. Alas until the modder pick back up their tools the game is resigned to being a singleplayer experience. It is far from a deal breaker but think of how Grand Theft Auto V has excelled with both the option to play a singleplayer game and then jump online with friends from around the world.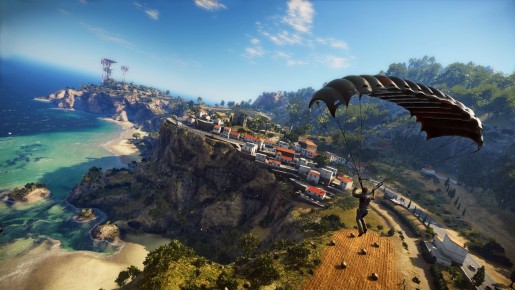 The decision to include Leaderboards also adds an irritation. When booting the game up you are forced to connect to the Square Enix server for the leaderboards information. Within 20 minutes of playing I had already been disconnected from the Square Enix server; at which point the game pulls you out of the action to try to reconnect a process which can take around 30 seconds. It feels unnecessary to do this and Square Enix should have gone down the route of letting players continue on playing and reconnect for leaderboards at a time best for them.
Verdict
As madmen who dream of world domination go, General Di Ravello is every bit the perfect dictator. However, he has met his match when Rico Rodriguez returns home and what an island to return home to. It is visually stunning even before the countless explosions start and the fun escalates. Just Cause 3 might be a slightly shallow experience storyline wise but it is the carnage and entertainment factor that the series is known for and crazy over-the-top gameplay and explosions Just Cause 3 delivers on; bigger, better and shinier than ever before. Even before modders get their hands on the game, Just Cause 3 is a great title to chill out with and cause some destruction. Nevertheless, when multiplayer is eventually modded in the game will be taken to the next level.
[Editor's Note: Just Cause 3 was reviewed on the Xbox One/PC platform. The game was provided to us by the publisher for review purposes.]
Just Cause 3 Review

,