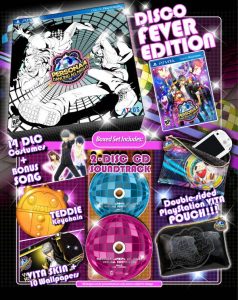 If you feel like dancing and need something special in your life, a fancy new Disco Fever edition for Persona 4: Dancing All Night has been unveiled by Atlus.
The limited edition for Dancing All Night contains more than just a shiny new copy of the game to keep your fingers tapping. A double-disc soundtrack lets you enjoy the sweet beats of the Junes theme anywhere you go. For the more discerning fashionista, the Disco Fever edition also includes a keychain modeled after the game's unofficial mascot and pro baseball bat wielder Teddie and matching Vita pouch to keep it safe on the go.
Similar to the bonus for Persona 4 Golden, this release (both the Disco Fever edition and Launch edition) will also include a front skin for your vita and 10 different matching wallpapers, provided that you have a Vita-2000 (slim) to match. There's a slice of in-game content as well, including over a dozen DLC costumes and a bonus song included with the Disco Fever edition, saving fans money versus buying just the basic game and grabbing the DLC later on.
Persona 4: Dancing All Night will launch exclusively on the Playstation Vita later this Fall. The Disco Fever edition will set gamers back $79.99USD/$99.99CAD and a basic launch edition will also be available for $49.99USD/59.99CAD. Atlus' John Hardin has confirmed that the rhythm title will also be compatible with PlayStation TV.