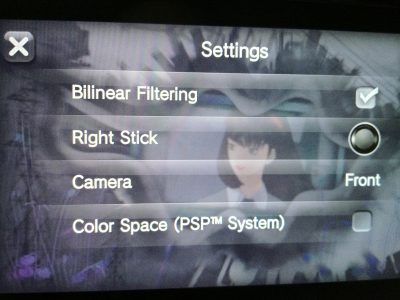 If you managed to snag the First Edition Bundle of the PlayStation Vita, you will be pleased to hear that the PSP games downloaded from the PlayStation Store will most likely be compatible on your new handheld. While it's good to have backwards compatibility on the PlayStation Vita with PSP games, one problem you might notice when playing it is the pixelated / jaggy texture of the graphics.
In case you don't know, you can make the PSP games look smoother on your PlayStation Vita by turning on the Bilinear Filter. To bring up the menu where you can turn the filter on, simply tap on the Vita screen and hold it for a couple of seconds. If done successfully, the option to turn on the filter will be there. Simply tap it and your PSP game will look a lot better on your Vita.
Also, another cool feature on the PSP games played on the Vita is the use of its second analog stick. There are some games that supports the second analog stick, and if it does, simply do the same thing as you did to bring up the option to turn on bilinear filter.
PlayStation Vita: How to Turn On Bilinear Filter When Playing PSP Games

,