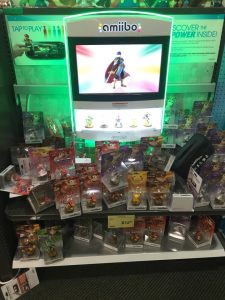 Nintendo, perhaps more than any other game manufacturer, knows how to incite fervor and demand for a product like none other. Hotter than any of the current 'toys to life' on the market, be it Skylanders, Disney Infinity, or whatever LEGO is currently cooking up, Amiibo have hit such a demand that they're nigh impossible to find certain characters in the wild. Is the amiibo shortage gross incompetence, or part of a brilliant marketing campaign?
If you were to walk into a retailer this very afternoon and wanted to put money down on the fourth wave of Amiibo (mind you, these don't even launch until the end of May), you would often be met with a stern no and perhaps maniacal laughter depending on how vindictive that retail employee feels. Preorders for these collectible figurines opened one day just after the latest Nintendo Direct and closed the very same afternoon. So popular were these little collectibles that the demand for them was enough to bring Gamestop's online servers to its knees and these items weren't even available to order online outside of a retail store. Other retailers didn't fare much better, with Best Buy, Toys R Us, Target, and others all selling out of their stock in an incredibly short time. Thus far, the only Wave 4 Amiibo that I've seen relisted (and been able to preorder) was a Jigglypuff order through Target that lasted a record eight minutes; the first wave of the pink Pokemon barely lasted half that by my own calculations.
Of the last couple waves, retailers have seen only a trickle of Amiibo figurines enter back into the supply chain and even then only last an afternoon, if that. As someone that's fallen into the Amiibo cycle of hype, I've secured just over a dozen of these figurines through various retail stores since their launch last November. In order to get a golden Mario Amiibo from the Mario Party line of figures, I had to camp around a Walmart for two and a half hours with a small group of like-minded individuals. While these were supposed to be an exclusive figurine to advertise for Easter, that batch of Amiibo didn't even last until the clock struck one in the morning.
This is by no means an isolated incident. Ask any collector of Amiibo about what figures they pride for their collection and they'll often tell you of some sort of metaphorical hoop they had to go through just to get their hands on one. Despite the obvious demand for Amiibo, Nintendo has yet to meet much of the demand for their lesser known characters. Many stores that you'll walk into often carry the same stock. You'll find the same Donkey Kong, the same Pikachu, the same Bowser and Princess Peach where ever you go. It's these common staples of Nintendo franchises that keep making their way back into the retail market, yet Nintendo's lesser known characters are given but a single wave of production before leaving those spaces empty on the shelf.
Of course, there are exceptions to this rule yet they're few and far between. Nintendo promised a return of Marth Amiibo back into stores, as a tie-in to Codename S.T.E.A.M. Without Marth (and the other three Fire Emblem Amiibo that have been announced), you're locked out from gaining those characters as party members. Effectively Amiibo work as paid DLC; in this case, each Fire Emblem character is locked away behind a $13 paywall. Preorders for the other three characters are long since sold out (Ike received a second chance to preorder although he won't be making it out until sometime in May). For players that want to get the complete experience for their games, they'll have to track down these elusive Amiibo and crack open the box to scan them in, ruining the collector's aspect of the Amiibo (unless of course, you decided to get your hands on two of them for this exact purpose). Where Nintendo could be making two sales and increasing their own financial outlook, instead they receive the single sale while someone that wants to order a second figurine is instead limited to the grey market or resellers that litter online marketplaces.
If Nintendo were smarter than I'm giving them credit for, they would intentionally be limiting the number of Amiibo they release to retailers, ensuring that the supply won't be able to reach demand. From there, they could offer these figurines through their own third party marketplace at a premium price, cutting out the middleman and keeping a greater amount of profit for themselves. Some of these elusive figurines routinely list (and sell) for $60 and up on such marketplaces, nearly a fivefold increase over their original selling price. With Nintendo operating at both ends of the supply chain, they could help control the flow of these figurines into the open while boosting their own profits with these business tactics. Granted, I know nothing about Nintendo's logistics and don't consider their business model to be so sinister.
On the other hand, the shortages of Amiibo and hype surrounding them could always be a way of staying relevant in today's market. In the weeks leading up to the release of Super Smash Bros. for Nintendo WiiU and the worldwide Amiibo launch, there wasn't much interest in the product line beyond the diehard Nintendo fans and those with a knack for starting collections. The GameStop I frequent barely broken ten Amiibo preorder in total, with nearly all of them consisting of Link (who remains to be the best selling of the figurine line). Only one Villager from Animal Crossing arrived, and there were no Wii Fit Trainer or Marth available at that launch. It wasn't until reports went out and word of mouth spread about how uncommon and rare some of these figurines were that sales seemed to boost up in retail locations. It's difficult to say whether Nintendo took a note from Activision's Skylanders line with the slow pacing of introducing these figurines to retail locations (and the introduction of retailer-exclusive figurines by the time the third wave were announced).
Because of the hype surrounding Amiibo, announcements from Nintendo and the following Nintendo Direct streams were treated as a herald of the upcoming rush to whatever retailer customers wanted to try their luck at. I've seen instances firsthand of seeing the days when these preorders would open up and employees not being prepared for the rush of customers all wanting to get their orders in for these figurines. It can be doubly frustrating for both parties involved, whether you're a customer that can't get an order placed or an employee that doesn't quite know what's going on.
Much of these issues could be alleviated with a 'simple' solution. Rather than placing artificial limits on what retailers are allocated for preorders, instead make them unlimited. If even for a period as long as a week, allow retailers to take as many preorders as they can handle for that period of time. Not only would that give customers the chance to order the Amiibo that they're desiring without any third-party nonsense, but it would also help out Nintendo's logistics. Nintendo would have an approximate count on the demand for particular Amiibo to manufacture, gauge desire and trends regarding certain franchises, and have a better understanding of the general reception to the Amiibo line. I don't know much about Nintendo's logistical department or production, nor do I pretend to, but one thing's for certain: Nintendo has gotten the fine art of generating hype down and that hype train shows no signs of stopping.
I've ridden this hype train for too long, Nintendo and it's time for me to get off.