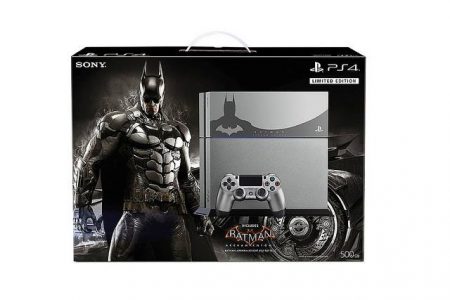 Hot on the heels of the announcement that Batman: Arkham Knight would see a small delay, Warner Bros and Sony have announced a partnership to bring not just one but two new Playstation 4 bundles with Arkham Knight included.
Both of the new console SKUs will launch on June 23rd, 2015 alongside the current gen-exclusive title. In addition to packing in a copy of Batman: Arkham Knight on Playstation 4, both consoles (as well as any Playstation 4 copy of the game) will include "PlayStation Exclusive Custom Batman and Batmobile Skins: Fight crime in the futuristic Justice League 3000 Batman skin or go retro the Batman Classic TV Series Batman and Batmobile skins."
The standard model will match that of current PS4 SKUs: black 500gb console, black dual shock 4, et cetera and will retail for $399USD. The only difference is replacing The Last of Us Remastered with Batman: Arkham Knight as the pack-in title.
For those looking to get a special model, the Limited Edition for Batman: Arkham Knight dons a steel finish. This special console will include a steel-colored Playstation 4 console with matching custom Arkham Knight hard drive faceplate, finished chrome Dualshock 4 controller, and copy of Batman: Arkham Knight to round out the trilogy. This console is priced at $449USD and pre-orders have already started to go up at Amazon, Best Buy, and GameStop.