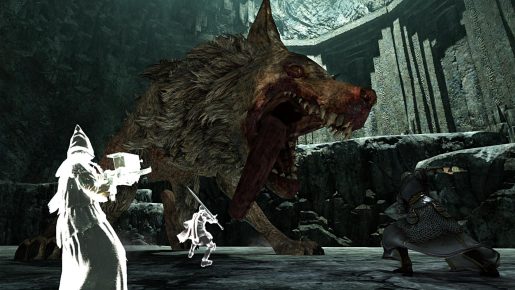 The upcoming PC upgrade and complete edition of Dark Souls II: Scholar of the First Sin has had its pricing structures detailed, based on what you already own and want to upgrade towards.
Not one to keep things simple, Bandai Namco has unveiled four different prices for Dark Souls II: Scholar of the First Sin and the forthcoming Director's Cut. The PC launch will arrive ahead of its console companions on April 1st, the non-master race consoles will have to wait to get their hands on another Souls fix until April 7th. Two primary flavors of Dark Souls II: Scholar of the First Sin will be available on PC, based on whether you would like the DirectX 9 version or the enhanced DirectX 11 version.
It should be important to note that if you are looking to transfer your save from a prior version upwards into SotFS, you will have to stick to DirectX 9. The DirectX 11 versions will be incompatible with save transfers and will also feature separate multiplayer servers, splintering the userbase between those that do and do not upgrade to the higher fidelity.
Players of the DirectX 11 version of Dark Souls II (as well as PS4/XB1 owners) will enjoy new map shortcuts, enemy placement and redesigned gameplay tweaks, as well as improved sound and graphics. New NPCs and gear have been added, and the player cap for online cooperation has been increased to a maximum of six concurrent users, a 50% increase from DX9 players. Players looking forward to the DX9 version (and last gen consoles) will get all of the previously released DLC from the Dark Souls II Season Pass in a complete package but none of the additional gameplay or balance tweaks (think Director's Cut or GotY version).
From Software has broken down the pricing on Scholar of the First Sin into four basic prices on PC. The first two are for newcomers to the game on PC, and the latter two are for those looking to upgrade from a previous purchase. Whether you're looking to play it on Xbox One or PlayStation 4, the title will cost $59.99 on those platforms.
The following prices are for the four forms of Dark Souls II: Scholar of the First Sin on PC:
Dark Souls II: Scholar of the First Sin (DirectX 9): $39.99
Dark Souls II: Scholar of the First Sin (DirectX 11): $49.99
DirectX 11 upgrade price for existing owners of Dark Souls II (without any of the DLC) on Steam: $29.99
DirectX 11 upgrade price for existing owners of Dark Souls II (plus the Season Pass OR DX9 version of SotFS) on Steam: $19.99