The development cycle for Axiom Verge has certainly been a lengthy one. This one-man project has lasted nearly five years, mirroring closely to the stretch of time gamers have been without a proper followup to Metroid: Other M. Developed in his freetime by Thomas Happ, a developer for Petroglyph Games, this project has been a labor of love since its initial creation back in 2010. As a nostalgia trip back to the glory days of the NES, it's easy to see its inspiration from titles such as Metroid and Blaster Master. Is Axiom Verge able to stand upon both its own and the borrowed merits of the genre or is this one truly a work of Athetos?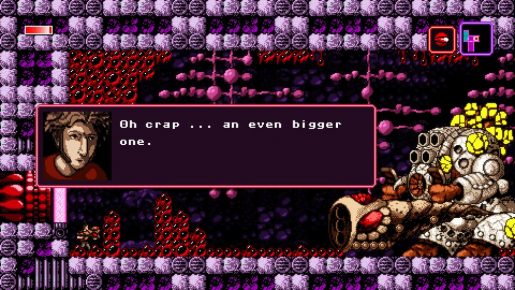 Axiom Verge opens with an experiment gone awry in New Mexico some ten years in the past. Our intrepid hero, known as Trace, is thrust into an alien world where a sentient benevolent being asks for his assistance in fending off a threat to the world known as Athetos. From then on, Trace is essentially on his own, relying upon the upgrades and new firepower he discovers in order to save this alien world and perhaps return to his very own. It's a cliched tale that's told superbly through dialogue and ingame artifacts that help it feel refreshing and unique.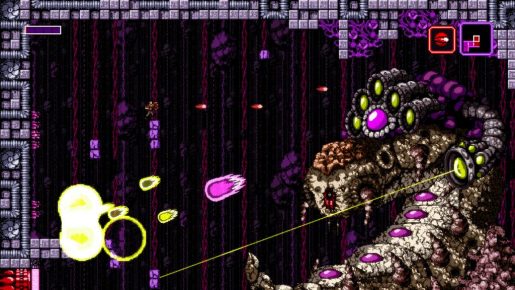 Speaking of the new firepower, Axiom Verge takes a fresh new spin on the plethora of weapons at Trace's disposal. Not limited to just a couple of guns like in the Metroid series (wave beam, freeze beam, etc), Trace has upwards of two dozen varied weapons to work with. Two can be equipped at a given time and swapping around to a different arsenal is as easy as rotating the right stick to dial in your preferred firepower. Different bosses call for different tactics, so knowing how to utilize each weapon can mean the difference between taking it down on the first try and being sent back to a rebirth chamber not too far away.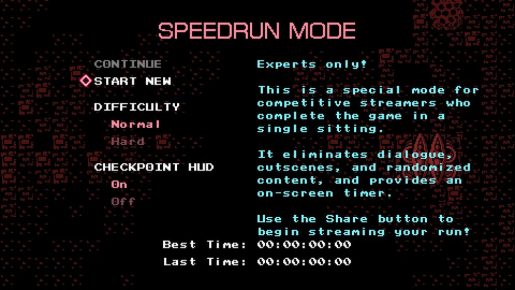 A playthrough in Axiom Verge takes that of three flavors. Both a normal and hard difficulty are available from the onset and while I didn't finish my normal playthrough, playing on hard struck that nice balance between fun and frustration. Careful planning and pattern memorization was necessary to survive most combat encounters, especially the later boss fights. I found myself having to sit on the edge of my seat for many boss fights, sometimes just scraping by with only a sliver of health before that music would change and trophy notifications came across my screen. For a further challenge, either difficulty can be played on a specially crafted Speedrun Mode, targetted specifically towards those players on Twitch that try to opt for the most efficient route and glitches to make it through the game. Timer notifications are built into the HUD, allowing players to track their segment by segment speed, providing instant feedback if they are playing as efficiently as possible.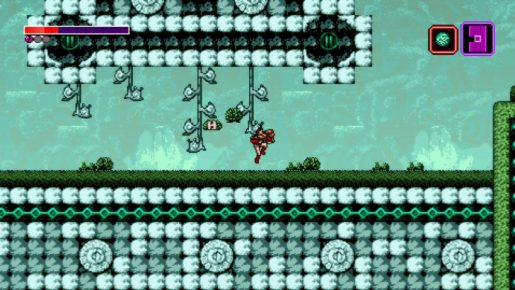 Secrets in Axiom Verge aren't just tucked away behind collapsible walls. Small environmental cues are important to pay attention to, as these can lead to some very worthwhile upgrades and weapons. The address disruptor is handy for scanning the environment for certain visual cues but you'll have to use the other tools in your arsenal to discover what's really hidden deeply. Miniature retro-themed secret worlds are hidden across the map and offer gateways to glitch-filled worlds with more secrets to uncover. Throughout my hours with Axiom Verge, I had only stumbled across two of them and I wasn't sure I had even found everything in them to begin with.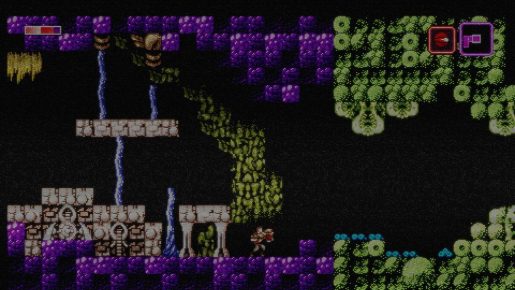 Discovering secrets in Axiom Verge can be both brain teasing and ultimately satisfying. during my scavenger hunt just for some additional damage boosting powerups, I found myself translating Sudran (one of the game's multiple hidden languages) into English, glitching and corrupting every enemy I came across in hopes of learning an extra clue, and even mastering trick shots with the drone launcher just to get positioned just so to find a new area. Even with all of my cunning and experience with the genre, I only found myself scraping the 90% item completion mark with twenty hours on my play time. I can only imagine the amount of memorization and skill needed to beat the game in under four hours or without dying (both gold trophies that take a fair bit of careful planning and patience, especially as the game automatically saves upon respawning). If you're a fan of Fez and the abstract method of thinking necessary to discover every secret in the game, I wholly recommend Axiom Verge even if just as an exercise in puzzle solving.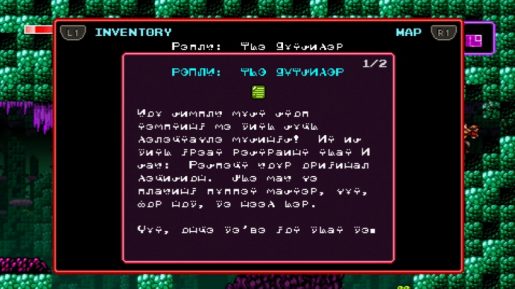 Axiom Verge isn't without a couple of mars on this fresh coat of paint. The music that fills the various environments to explore ranges in quality from the shrill beeps from the first zone to hype-inducing beats during some of the later boss fights. The music to the first area has been one of the few pieces in video gaming that actually gave me a headache just listening to it, so sadly I found myself having to put that area on mute when passing through to a new area.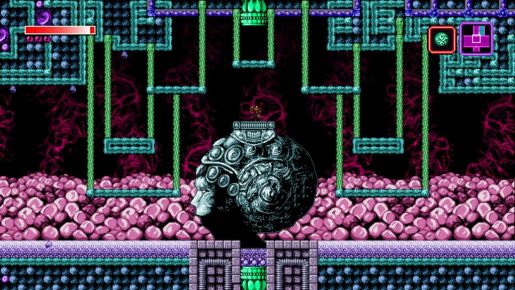 Secondly, commuting from one area to the next can be a cumbersome chore for the first part of the game. Progression is actually blocked until you can acquire one of the game's multiple glitch-themed mobility options, so perfectionists will have to bide their time until they get the right powerups to progress freely across the nine varying worlds. One sole area in the center of the game map serves as a fast travel from one side of the world to the next but I couldn't help but feel that having a proper teleport, perhaps from one rebirth chamber to the next, would serve to cut down the travel time, especially through the more harrowing areas filled with enemies that can take off sizable chunks of life in single attacks.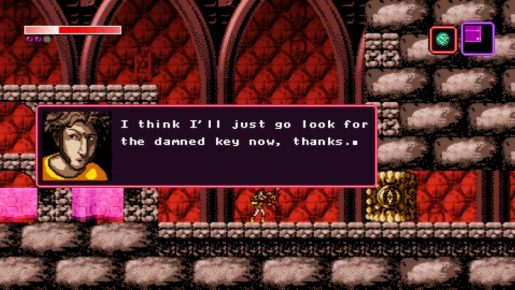 Axiom Verge can easily be called the best Metroid-inspired title since Metroid Fusion. Despite its few missteps with exploration, there's plenty of fun to be had, especially if you're looking for a mental challenge when it comes to the secrets tucked away. With its insane number of secrets, dozens of weapons, and a unique world to explore, Axiom Verge is hands down one of the best adventures I've had this year. Its harder difficulty may turn some players away, but that's part of what makes that sense of reward all the greater.
[Editor's Note: Axiom Verge was reviewed on the Playstation 4. Review code was provided to us by the publisher.]
Axiom Verge (PS4) Review

,