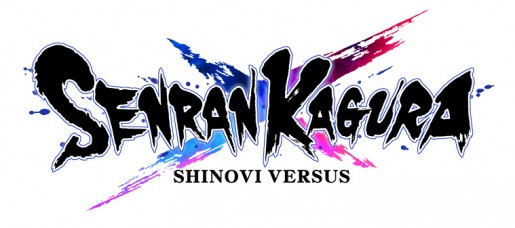 Senran Kagura: Shinovi Versus takes places in an alternate world, where the T&A is more than just eye candy and instead embodies life and hometown, something the series' creator feels very strongly towards. Those that have strong moral objections to life, as it will be hereby known throughout this review, should divert their gaze to another title. If you're curious to see what these ninja girls are capable over, read on. But does Senran Kagura: Shinovi Versus have the life to be the next great ninja brawler on the Vita, or is it all for show?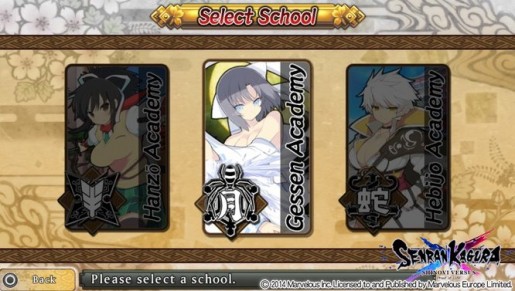 From the onset of Senran Kagura: Shinovi Versus, you're tasked with choosing a school to ally yourself with from the three initially available. This school you choose determines the side of Shinobi Battle Royale you'll see first, but after the credits roll, you're free to choose another school at will. Once you've seen all three sides, a fourth 'school' opens up: Homura's Crimson Squad. Homura, one of the playable heroines from the 3DS Burst, now operates as a renegade, outside of the schools for story reasons that are too heart-wrenching to mention here.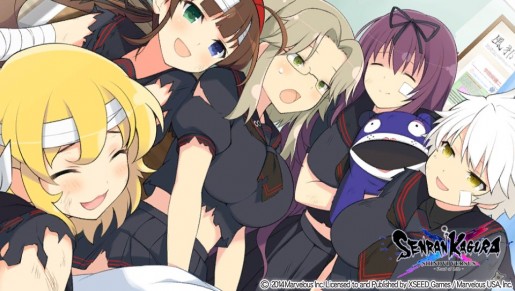 Each of the 20-playable shinobi-in-training are playable not only to defend their given schools in a Shinobi Battle Royale, but also with their own story chapters called Shinobi Girl's Heart. These little side diversions give a little more insight into each of the shinobis' personalities and help to flesh out their personalities with comedic little one-off skits and missions.
Despite the abundance of hometown in Senran Kagura: Shinovi Versus, the story has times when it can be somber and morose. For every moment of lechery or humor, there's an equal amount of backstory or plot that tugs at the player's heart strings. I was quite taken aback with the history some of what the shinobi went through and helped cement which ninja academy I felt most in-line with.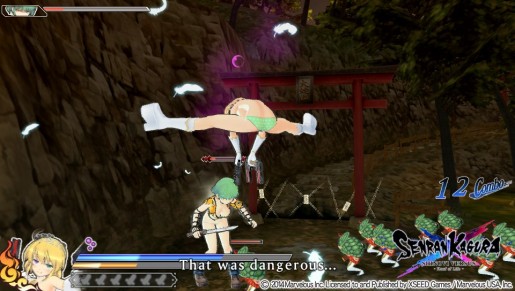 Once you get to the actual gameplay of Shinovi Versus, it offers a pick-up-and-play style that's suited for smaller bursts. Stories and chapters are broken up into small bite-sized chunks, sometimes barely more than a bit of story exposition and a ninja battle. These are the more fun moments of the game, as the longer missions that throw in hordes of damage-soaking ninjas and bears tend to drag on longer than I'd like, nailing combo after combo and slowly watching these elite ninja's HP bars trickle away.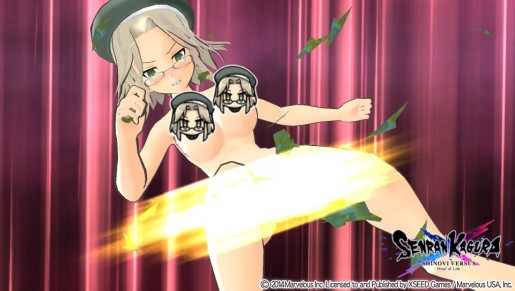 The ninja girls of Senran Kagura, at least in Shinovi Versus, look as though they've had some classical training on how the wars of Ancient China and the Warring States periods were fought. Dynasty Warriors has an obvious inspiration on the combat, with its emphasis on chaining light and heavy (sorry, Breach Arts) attacks together to create ample sized combos while a gauge fills up for each fighters' secret ninja arts, musou attacks if you will. Ground attacks chain together into aerial combos with ease, blending the two fighting styles together just as well as life and hometown. Attacking an enemy ninja repeatedly will cause damage their clothing, slowly revealing them down to just their underwear. If you're brash enough to continue attacking further on, especially with ultimate ninja arts acquired later in the story. These arts can strip a shinobi down bare, with creative censoring marks of course.
To activate each ninja's secret ninja arts, they have to first undergo a form of shinobi transformation, shredding their common school attire for something more unique. Using the L-button will bring about the standard transformation, costume change and all. This extra form increases the player's damage and defense equally while opening up new combos and ninja arts. However, if you're looking for something more dramatic and attack focused, hitting R+Triangle will bring up a new window where you have to seize life with both hands and rip off the shinobi's clothes, leaving them stripped down to their underwear. This more exposed fighting style puts the character into Frantic Mode, drastically increasing their damage output and speed but withering their defenses to almost nothing. It's a high risk, high reward playstyle that's well suited for clearing out massive groups of enemies or an enemy ninja in a matter of seconds.
Senran Kagura: Shinovi Versus (PS Vita) Review

,