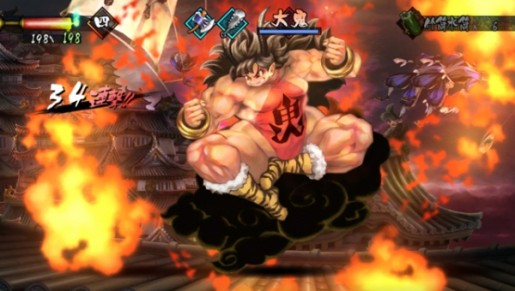 Aksys Games is pleased to announce the final DLC entitled "Hell's Where the Heart Is" from the Muramasa Rebirth Genroku Legends will make its way to the PlayStation Network on September 2nd in North America and September 3rd in Europe.
For fans who have been playing all of the released DLC for Muramasa Rebirth, Vanillaware has a special gift to those who have completed all four of them, including the upcoming DLC. To access your gift, simply go to the Genroku Legends menu.
When former monk turned playboy Seikichi accidentally proposes to Rajyaki, the daughter of the Lord of Hell, he finds himself literally sucked into an adventure he never dreamed of! Already on a mission to recover the sacred treasures of the Seven Gods of Fortune that she misplaced, Rajyaki stuffs Seikichi in a magical bag and continues her mission – all while being the "bestest" fiancée she can be! Play as the formidable Rajyaki as you explore the Muramasa world, all while falling madly and deeply in love with Seikichi!

Three Powerful Forms – Naturally as the daughter of the Lord of Hell, you have some fearsome powers. In child form, Rajyaki is quick and speedy with her ax. As a woman, Rajyaki uses her powerful club to knock enemies out of her way. Finally, in demon form, Rajyaki uses her near infinite powers to destroy any enemy in her path!

Test Your Skills – Even after completing the main story, Rajyaki's adventure continues! Face bosses and enemies from the Muramasa Rebirth storyline and test your skills against the likes of Raijin or the Dragon God!
Check back with us near the release date for our review of the fourth and final DLC of Muramasa: Rebirth.