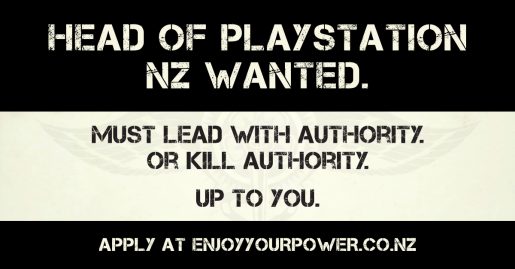 Sony has announced a unique competition that allows one lucky gamer to be the head of PlayStation New Zealand for one day.
This promotion is being done to help celebrate the release of inFamous: Second Son on March 21st.
This crucial appointment calls for someone who mirrors the qualities of the characters in the game; an individual with extraordinary powers of leadership and decision-making, someone with real CEO potential.
David Hine, Director of Sales and Marketing for Sony Computer Entertainment New Zealand says that they're looking for the kind of person who lights up a room whenever they walk into it, with fireballs usually.
"We're looking for someone who has a vast knowledge of gaming, an outstanding record of achievement and a killer instinct. The person chosen to take advantage of this once-in-a-lifetime opportunity will blow all applicants out of the water with their keen eye for strategy, boardroom combat and ability to flush out corporate enemies," says Hine.
The successful applicant will be ruthless in their approach and have eyes in the back of their head, not to mention the ability to absorb conduits. They will need to be strategic, especially when it comes to sneaking up on lesser management with a neon weapon or making ranged attacks with smoke projectiles.
If you want to apply to this special 24 hour job, visit enjoyyourpower.co.nz. You can also view the ad on Seek by clicking here.