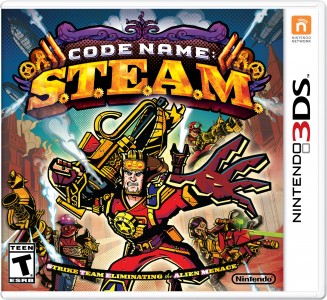 Following the huge day that was Tuesday for Nintendo, with live streams nearly all day that culminated with the Super Smash Bros. Invitational tournament, we knew they still had one big announcement up their sleeve. A special roundtable discussion was scheduled for Wednesday night, where an unannounced Nintendo 3DS title was said to be unveiled. Many were hoping this would be a rumored 2D Metroid title, but instead we learned it was a completely brand new IP known as Code Name: STEAM.
This action-strategy game features a steampunk theme that takes place partially in London. Even better is that is comes from Hitoshi Yamagami, who has worked on series like Pokemon, Fire Emblem, and even Xenoblade. That is not all as Intelligent Systems is also working on the game, which should help with the strategy side as they are the ones behind the Advance Wars series.
Code Name: Steam is set to release sometime in 2015, so stay tuned for more information on the game in the future.