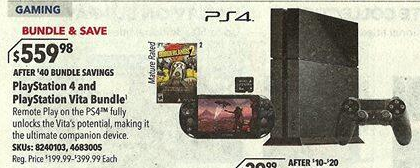 While listing surfaced earlier this week for a PlayStation 4 and PS Vita bundle through overseas retailers, there is no confirmation on a price or when we can expect to see such a thing. However, Best Buy is getting a little jump on things with their own little bundle.
Starting today, You can get a PlayStation 4 and PS Vita, with a digital voucher of Borderlands 2 and an 8 GB memory card included, for only $559.98. Normally this would retail for $30 more if bought separately, so it is quite the useful sale if you are looking to buy both.
While this is a great bundle, the supposed official bundle may be a better deal when it is possibly announced during Sony's conference tomorrow night, so it might be a good idea to wait a day or two before diving in on this deal. It will last through Saturday, June 14, so you have a little time to make a decision after the conference.