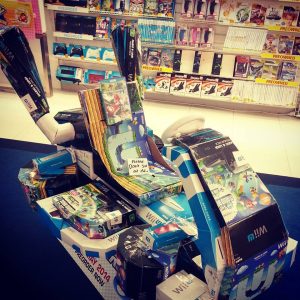 EB Games previously made a Titan to celebrate Titanfall, now they have made a kart to celebrate Mario Kart 8.
An employee from EB Games in Australia made a kart to mark the launch of Mario Kart 8 later this month. He made the kart from Wii U boxes, posters, a Wii racing wheel and even the Mario Kart 8 game box itself.
You got to give credit to the guy that makes these works of art. If you live in Docklands, Australia, head on over to EB Games to see the kart in person.