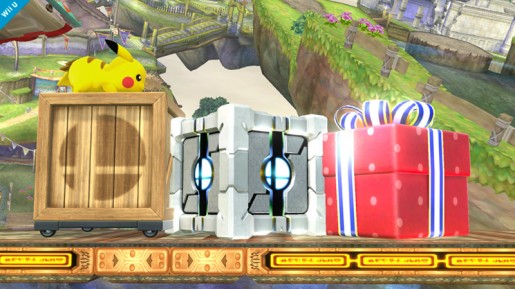 With the previously announced Super Smash Bros. Nintendo Direct scheduled for later today, we knew that today's update from the website would not give us much of anything considering the Direct itself will do that. As a result, Masahiro Sakurai posted a cryptic image with pretty much no information in his Miiverse post.
Pic of the day, and a very important announcement. On 4/8, at 3 PM PST (8/4 11 PM UK time), we'll be airing a Super Smash Bros. Direct!! There will be all kinds of info about the new Smash Bros. games on this simultaneous global stream that will be delivered "directly" to you, so don't miss it! It's airing at a really late time for some of you, but it'll probably be worth the wait. You can watch the stream from the official site (www.smashbros.com).
Could we be getting three big reveals in the Direct because of the three boxes or is this just a completely random picture that he decided to post? We'll just have to wait and see. I am extremely excited to see what we get, as it's pretty much a guarantee we will get some big news considering non-Smash Bros. focused Directs usually reveal good information and this one is focused exclusively on the game. Stay tuned to Just Push Start for coverage of the Nintendo Direct later today for any reveals that we may get!