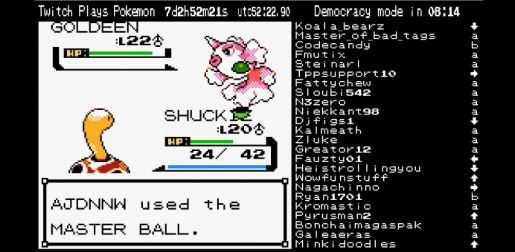 The Twitch Plays Pokemon phenomenon may not be what it once was in its first run, but it is still quite fun to keep up with. We saw the end of the Pokemon Red journey a little over a week ago and began our journeys in Johto with Pokemon Crystal.
However, that didn't last long as the community took down the eight Johto gyms and have headed back to Kanto to take on the Elite Four and then the eight Kanto gyms. Now, we must see how long the Elite Four and the Kanto gyms take so we can challenge Champion Red at the end.
Also of note, the Master Ball was used on a Goldeen, as seen in the picture above. Yes, a Goldeen. I'm sure the Legendary Dogs will be easy captures now.