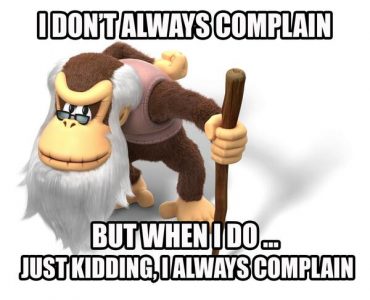 With Donkey Kong Country: Tropical Freeze set for release tomorrow in the US, a game that you can see we absolutely loved in our review posted earlier today, Nintendo is using some interesting marketing through their Twitter account. Due to his inclusion in the new game, Cranky Kong has taken over the Nintendo of America Twitter account, which has been full of hilarious tweets and memes throughout the day, straight from the monkey himself.
The following are some of the tweets he made throughout the day, starting with the very first one.
AHEM! This is Cranky Kong. Nintendo told me to deal with Twitter today. Once they explained it wasn't some new animal buddy, I agreed.

Why get my own game when I can outshine these whippersnappers in theirs? #DKCTF #WiiU

YOU ASKED: How do you stay in such great shape? #DKCTF #WiiU

I chase freeloaders off my property while waving my cane above my head and shouting random nonsensical game tips. #DKCTF #WiiU
There are so many more that you will just have to check out for yourself here. I personally hope we see more marketing like this in the future from Nintendo and other companies.