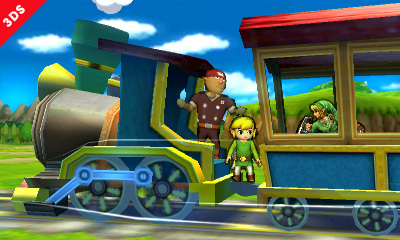 When we first saw the reveal trailer for Super Smash Bros., a level was shown for the Nintendo 3DS version based on The Legend of Zelda: Spirit Tracks that saw Link as the engineer of the train. Some thought that this might mean we wouldn't see Toon Link as a returning fighter, though he was of course later confirmed. Now, today's new update from Masahiro Sakurai explains what will happen if someone chooses Toon Link on that stage.
Pic of the day. When Toon Link joins the battle, Alfonzo is in charge of the train. Alfonzo: "Leave it to me!"
Alfonzo is also a character from Spirit Tracks, so it makes sense that he could take over if Toon Link is in battle. It will be interesting to see if this is the case in any other stages that we haven't seen yet.