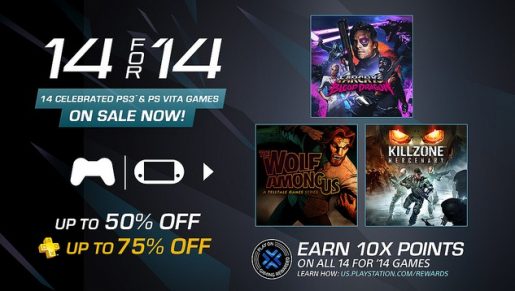 Sony has announced plans to ring off the new year with discounts across its online storefront in North America. The simply titled 14 for '14 sale brings in the same kind of discounts as last year's similar 13 for '13 promotion, only with a new lineup of titles and even bigger savings. Expect to see these sales start up after the Playstation Store updates tomorrow, January 14th, 2014.
Many of the titles listed below are at up to 50% off for the 14 for '14 sale, with an additional 25% discount for PlayStation Plus members. While this is simply called 14 for '14, there are separate sale lists for PS3 and PS Vita, giving a total of 28 games on sale. Some of the more notable titles include Puppeteer at $7, The Wolf Among Us at $13,49, Tales of Xillia at $10, and Killzone Mercenary at $9.
The three prices below for the 14 for '14 sale represent the following three values: PS+ sale price, sale price for everyone else, and the normal price tag. You can check out the full list of games on the 14 for '14 sale below or at Sony's US blog.