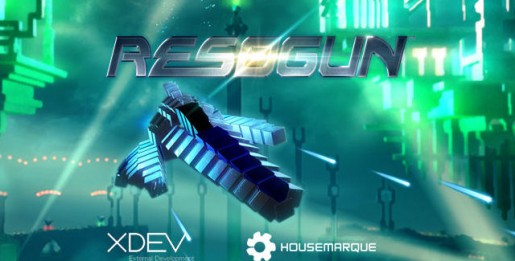 2D side scrolling space shooters were popular back in the '80s. You would see a lot of them and roughly most of them played the same. The main goal was to score the biggest amount of points while at the same time, trying to avoid getting killed. This style of gameplay slowly died down once gaming made the transition to 3D. This is why it's refreshing to see a new game being made from the genre in 2013. Resogun is the game I'm talking about and is arguably the best launch game for the PS4.
Resogun is a very unique style of shooter because you're not scrolling vertically nor are you just moving from left to right. The main thing that makes this game stand apart is the level design. Players will control a space ship that can move around a rotating level. It's your choice whether or not you want to move around clockwise or anticlockwise because all of the enemies will be coming on either side of the screen anyway.
To make Resogun more of a challenge for gamers, you can only shoot from two directions too. Your ship only has turrets that can fire from the left and the right of the screen. This makes the game a little bit hard because the enemies can come toward you at any direction. It pays for you to move the ship around constantly in order to avoid both the enemies themselves, but also their projectiles too. I reckon the game would have been too easy if they allowed you to shoot in multiple directions.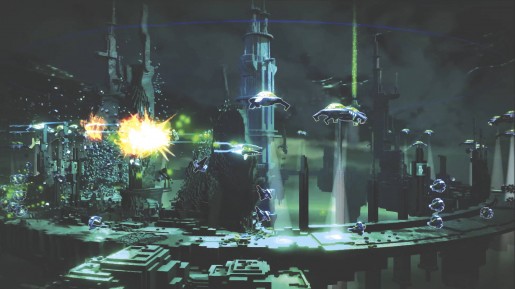 To make life easier for you in Resogun, there are special abilities that you can obtain but they only last for a limited amount of time. This includes an overdrive that allows you to move very fast, a bomb that eliminates every enemy within range, a shield and a laser that you can shoot enemies in slow motion. These abilities are really cool
when you get them.
Resogun's levels operate in many phases where you will shoot waves of oncoming enemies. You can complete each phase simply by shooting at enemies, or by saving the 10 humans that are trapped in each level. Saving humans is a secondary goal as you thankfully don't have to save them all to complete a level. Saving humans can be tough because you first have to shoot at specific enemies that are called "Keepers". Keepers are highlighted in green and you have to kill them all to free a human from their jail cell.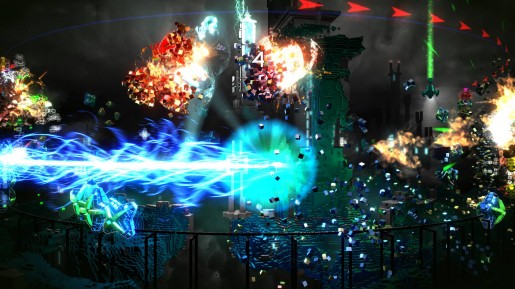 Humans die off pretty quickly because they will die if you don't kill all of the Keepers in time. Not to mention if you are able to free them, they will drop down at the bottom of the level and you will have to pick them up. You'll obviously need to pick them up quickly before the enemies will shoot them to death. In order to save a human, you'll need to pick them up and find a green portal to set them free. Although saving humans is not too mandatory, you will be able to get bonuses such as a shield, an extra bomb or extra life for your efforts.
Once you have killed a lot of enemies and/or saved enough humans, eventually every phase in the level will be complete. Your job isn't over though because each level concludes with an epic boss battle. Bosses are very huge as they take up the space of the entire screen. You will need to move your ship around constantly during boss battles because their weak spots are usually located in a specific position. You will obviously have to keep moving around to also avoid their projectiles too.
Resogun (PS4) Review

,